Adrian J Cotterill, Editor-in-Chief
Holly Willoughby, the brand ambassador for Garnier Nutrisse Blondes, is set to be the poster girl for London, when a campaign across eight iconic digital advertising towers goes live.
The nationwide campaign will include The W8 Network in London, comprising the premium locations: The M4 Torch, The M4 Tower, The M4 Showcase, The Holland Park Tower (shown above), The Hammersmith Tower, The Marylebone Tower, The A40 Spire and The A4 Showcase.
Garnier will be the first brand to deploy all eight towers in The W8 Network, communicating with consumers across the key 'Wealth Corridors' into central London.
Garnier will also be the launch brand for the newly digitised The Trafford Tower and The Trafford Arch (shown below) in Manchester.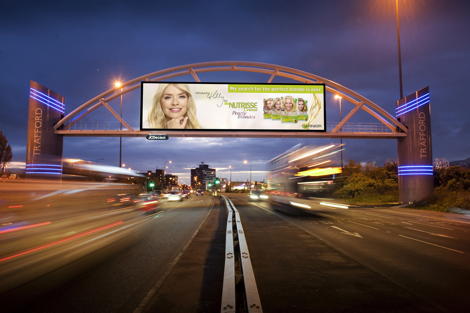 Alex Mottershead, Account Director at Kinetic, said "A combination of prestigious positioning, effective frequency and eye-catching creative means this campaign is bound to have a big impact on audiences in London and Manchester during topical London Fashion Week".
Spencer Berwin, Managing Director – Sales at JCDecaux told us "The W8 Network is the 'Vogue front cover' of digital OOH, a premium collection of iconic locations – ideally suited to brands who want to communicate with fashion-conscious, influential and affluent audiences in the capital. We are delighted that Garnier is showcasing Nutrisse Blondes across some of the most exciting digital space in London and Manchester, part of their nationwide campaign".
The campaign was planned and booked with JCDecaux by Maxus and Kinetic.