Adrian J Cotterill, Editor-in-Chief
Heathrow Express, the first UK train service to have on-board TV, will very shortly announce a tender process for the content delivery, provision and advertising sales for what it calls 'Express TV'.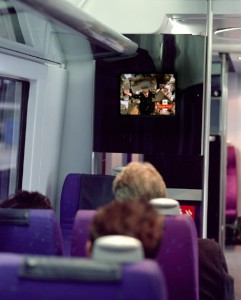 Heathrow Express has an attractive prime demographic passenger profile of: AB=71% and 62% aged 25-44. This is obviously a lucrative market for a captive audience network.
Significant sponsorship opportunities are also being sought as part of this package we believe.
Yan Huybrechts, head of commercial and business development for Airport Express, the sales and marketing alliance for Heathrow Express told us "We will be looking for partners who can supply content and advertising that is constantly refreshed and invigorated to meet the demands of our unique traveler profile"
Programming and content for these contracts is currently provided jointly by BBC Worldwide and In-flight Productions. Advertising sales are managed through Cedar Communications with facilitation and delivery currently provided by L3-ASA Communications.