Amigo Digital [1] hired Screen Technology's [2] digital 6-Sheet (built by one of their OEM's Ferrograph [3] in Newcastle) for their stand in the content area – located on the 1st Floor on the Gallery.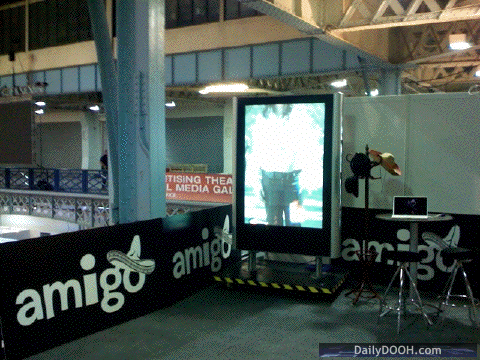 Amigo Digital told us that once they realised how big a PROPER 6-Sheet was – 85.17 inch in diameter (i.e. 70.861 x 47.244 AND not a consumer LCD stuck on its side in portrait mode like with some manufacturers) – they slimmed down their stand, cancelled their shell scheme and decided to go with a hat stand (notice the 3 hats) and some stools.
Very clever and we are told they have some fantastic bespoke content for that giant screen as well. If you are going to the show then you need to take a look at this.
Amigo Digital are on Stand: L23