Adrian J Cotterill, Editor-in-Chief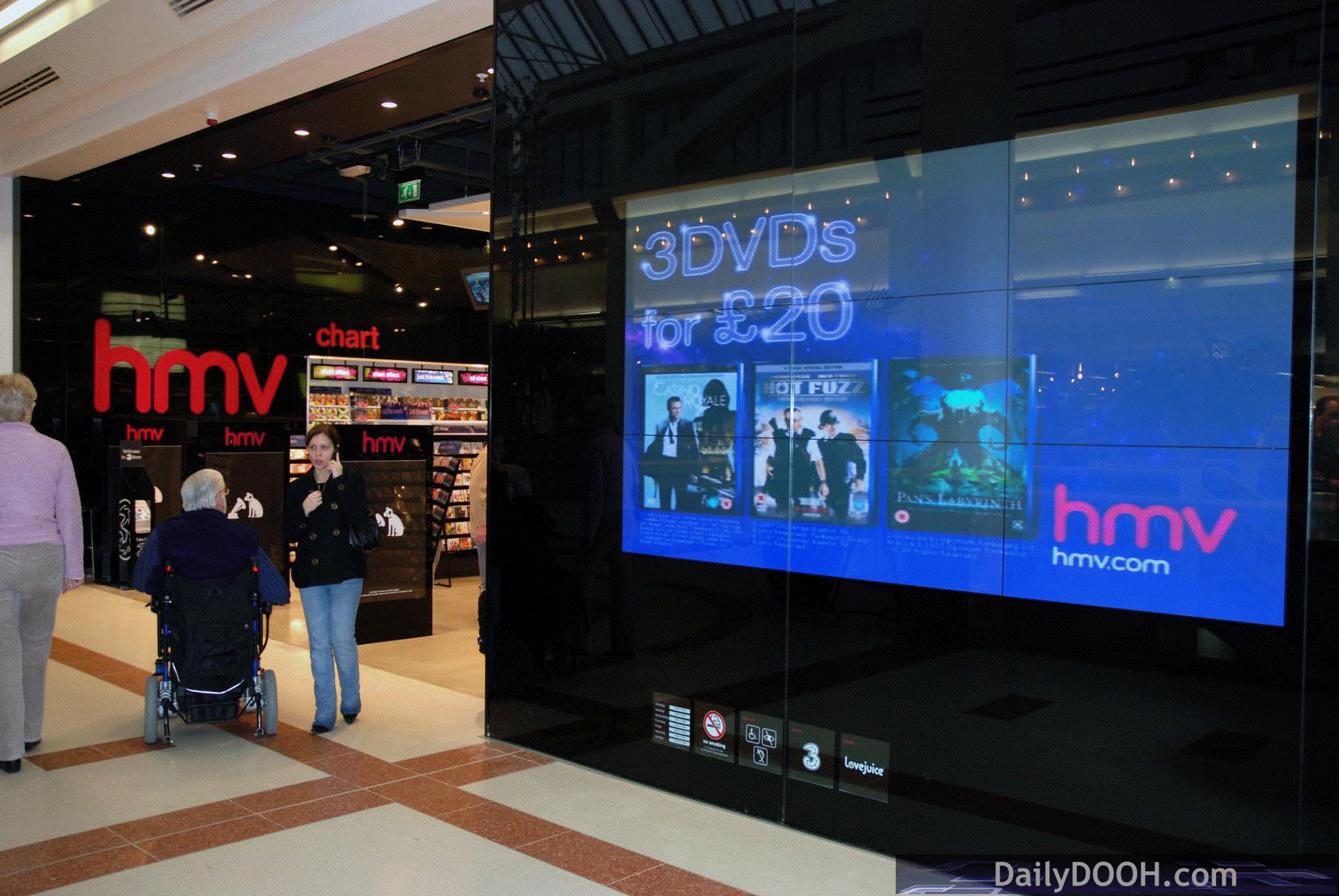 HMV have (we think quite correctly) credited the digital portions of their store re-fits with much of their business turnaround and excitement from City investors. It doesn't take a rocket scientist to know that a High Street CD, DVD retailer needs to completely re-position its offering in order to meet the challenges set by the online merchants.
We don't think that HMV and their compatriots on the high street actually go far enough – comfortable seating, knowledgeable store staff, free Wi-Fi, perhaps the odd water cooler or coffee machine might get us in, keep us in and encourage us to buy.
The 9 screen seamless plasma wall front of house shown above is the work of MediaZest via their Touch Vision subsidiary who are also we understand working on the HMV store in High Wycombe at this moment.
Retail Week reported in detail last week in an article entitled "Following market-bucking Christmas trading, entertainment retailer HMV is to roll out its next-generation store format".
In that article HMV chief executive Simon Fox was quoted as saying "Having traded our trial stores through Christmas and completed customer research, we are working through our plans for roll-out."
Encouragingly for our industry he emphatically pointed out that his new store model had worked best at the original 8,000 sq ft pilot at Merry Hill, near Dudley and "Here, we have seen very strong like-for-like uplifts compared with the rest of the chain, particularly in product areas we are targeting for higher growth such as games, technology and kids DVDs,".
We believe that the interactive hub, where customers can use PCs and kiosks for entertainment, social networking, online ordering and downloading, also tested very well, as did the gaming zones.
Excitingly – ALL new store openings in 2008 will adopt the next-generation format.
We don't think that MediaZest got enough credit for the work that they did here. This is a real boost to the retail signage industry – a high profile, well known CEO crediting the industry with a retail sales uplift. We should shout this from the roof tops!!!