Adrian J Cotterill, Editor-in-Chief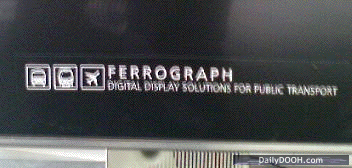 Just one of the rumours at Screen Expo Europe (go on, push us, we will tell you more!!) was that these guys Ferrograph have won a small order for fully enclosed, outdoor, proper size 6 Sheets in Malaysia with a company called FlashTV. The negotiations had been going on for some time and the paperwork we believe was signed and sealed last week.
Ferrograph, part of the TruForm empire like to keep a low profile in our industry but in fact are major players in what we would term street furniture.
The digital 6-Sheet in question is based on Screen Technology's ITrans product rather than turned on their side consumer LCDs and turned up hot / high brightness screens found elsewhere.
Turning up the brightness of a screen just to allow it to work in ambient daylight is not the answer to the problem we believe – though at the show many vendors would try too convince you otherwise.
ITrans, developed in Cambridge, has a patented toothbrush type front end that uses the natural light that it receives to improve the picture, enlarge the picture and allow it to be seen in very bright conditions. It won't get too hot either which is what will happen if you put a high brightness screen (already hot) in a hot sunny clime.