Gail Chiasson, North American Editor
A consortium of players under the name CityBridge is the winner to provide New York's five boroughs with LinkNYC, which, when totally installed, will be the largest free Wi-Fi installation in the world.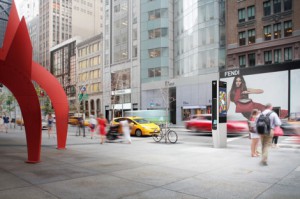 Members of CityBridge include Titan, which will handle the LinkNYC's operations and manage the advertising program; Control Group which is responsible for delivering, from concept and strategy to production, the technology and user experience; Qualcomm Inc. which will handle the connectivity, speed, and will act as technology advertiser; and Comark, which will will design, engineer and manufacture the Link structures able to withstand the weather and other elements to be robust and reliable.
Not members of CityBridge, but involved are Transit Wireless which will be responsible for LinkNYC's high-speed fiber infrastructure, and Antenna which is responsible for the iconic physical design of the Link.
Each NYCLink unit will have two advertising screens which will provide revenue to the City of the greater of either $500 million over 12 years, or 50% of the revenue generated. The initial contract, which is expected to make New York City the 'smartest city', is for 15 years.
Construction of the LinkNYC network will begin in 2015, and the first structures will become operational by Dec.31, 2015.
Up to 10,000 Links will be installed across all five boroughs. Each ADA compliant Link structure will provide:
24/7 free Internet access with up to gigabit speeds;
Free phone calls anywhere in the US;
A touchscreen tablet interface to access City services, directions and more;
Easy access to 911 and 311;
A free charging station for mobile devices;
Digital displays for advertising and public service announcements.
LinkNYC will be more than 100 times faster than average municipal Wi-Fi and more than 20 times faster than the average home Internet service in NYC This speed would allow, e.g.., downloading ofa two-hour HD movie in as little as 30 seconds.
The LinkNYC program is expected to create 100 to 150 new full-time jobs in manufacturing, technology and advertising, plus an estimated 650 support jobs.
In terms of privacy, LinkNYC will be one of the first free municipal Wi-Fi services in the country to offer an encrypted network connection. New York City and CityBridge have worked together to create the most robust and forward-thinking privacy policy that is currently available for any municipal Wi-Fi project.
LinkNYC is the result of a public–private partnership between the Mayor's Office of Technology and Innovation, the Department of Information Technology and Telecommunications (DoITT) and CityBridge. The network will be built at no cost to taxpayers. A touchscreen tablet interface will allow fast and easy access to City services.
Each hotspot will have a range of 40 feet, and will allow seamless movement between hotspots without reconnecting to the network each time. The free W-Fi is expected to benefit both New York resisted and tourists. It is expected to be a special benefit to low income residents, many of whom rely on pre-paid phones, so to be able to get wireless and mobile for free is critical. (75% of blacks and Latinos rely on their9 cell phones as do 59% of whites in the area.) Tourists will have no need for international voice and data plans for calls within the US.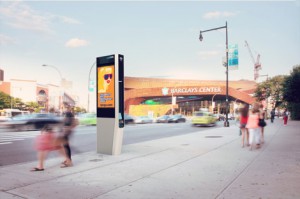 City agencies will be able to communicate in real-time with.the public with more specificity and relevance – a feature that is
particularly valuable in the event of an emergency. Links are.provided with backup power to provide services even during a power outage.
During the contract, there will be provisions for ongoing software upgrades and two hardware upgrades.
Scott Goldsmith, chief commercial officer at Titan; Colin O'Donnell, founder of Control Group; and Kiva Allgood from Smart Cities for Qualcomm, were the main speakers at the press conference to announce the contract.
Three pay phones will remain in Manhattan as a reminder of the city's history. Otherwise, Links will replace all aging payphones across all five boroughs.