Adrian J Cotterill, Editor-in-Chief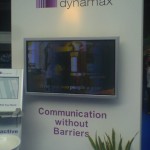 The DOOH Media Summit running alongside Screen Media Expo Europe certainly worked in attracting many of the big outdoor media owners; a crowd (and we mean a crowd) of Clear Channel folks descended on our lounge (and we not complaining), several folks from EYE Corporation came to see us and we saw Titan Outdoor and JCDecaux people milling around the show floor also.
As we twittered yesterday there were at least 100 folks in and out of the Media Summit, making it the best attended (we think) of all the events going on alongside the show.
It would have done no harm to Dynamax that they decided to attend this year. They had a nice stand and seems to be particularly busy.