Adrian J Cotterill, Editor-in-Chief
Having seen several stands on pre-build Monday (Screen Media Expo Europe) struggle with ginormous screens it was interesting this morning to receive a press release from PSCo about their 'new set of wheels' !!!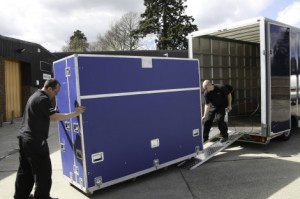 First, it's great that we have an AV distribution company with the funds and the wherewithal to invest (and market) the way they do but we can't help feeling that what this really points out is the difficulties in dealing with 100″ LCDs or PDPs – and having said that just how impractical they actually are.
Sure, they make a good showpiece but most of these don't even fit through standard European 6ft 6in door frames.
As we hinted at in our post 'Sony Ziris-Canvas Video Wall' there is some technology coming out later this year that will make a lot of today's screen technology pretty redundant – especially in the 100″+ or larger market space.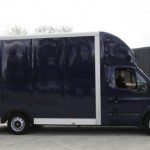 Bottom line here is that AV distribution company, PSCo has commissioned the development of a new vehicle to reduce the delivery cost of their 103" plasma and 108" LCD screens for temporary and permanent installations (their portfolio includes the world's largest plasma screen the Panasonic 103" and the world's largest LCD the Sharp 108").
The specially designed vehicle, we are told, has a pneumatic air suspension system that lowers the tail to less than 30cm and a winch that ensures the screens are safe and secure when loading and unloading – together they reduce time and manpower required to manoeuvre the screens 😉