Gail Chiasson, North American Editor
PATTISON Outdoor Advertising, Toronto-based Out-of-Home advertising company and a generous supporter of the arts, is launching a new national arts program called Art Belongs in the Community (ABC).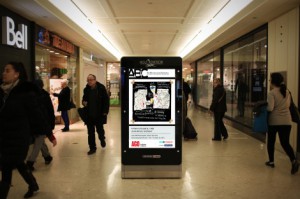 As part of its well-known Art in Transit program, ABC will support numerous arts organizations across the country, offering them new audience-building opportunities through PATTISON Onestop's Digital Mall Network in shopping centres throughout Canada from Feb. 9 to Dec. 31, 2015.
ABC is a national program that partners PATTISON Outdoor with 10 major public art galleries to display art in shopping centres. Onestop (PATTISON's Digital Out-of-Home advertising agency and a recognized leader in digital advertising) will showcase a range of artwork on its mall screens in select Canadian cities in 2015.
PATTISON, through ABC, is offering public galleries the chance to display artwork that relates to their current exhibitions throughout the year on these screens. ABC's scope and objective is to help broaden the exposure of artists and their artwork in the communities they are exhibited.
"For years, PATTISON Outdoor has been involved in the arts with numerous initiatives across Canada and extending these efforts to a new audience with our Mall Netowrk is an exciting endeavor," says Sharon Switzer, national arts programmer and curator, PATTISON Onestop. "This year, we have partnered, for the first time, with a group of public art galleries across the country in an effort to bring artwork outside the walls of the gallery and offer it to the public at shopping centres near them. The objective is to create opportunities that will help art institutions share their ongoing programming in a unique way, and offer mall visitors a chance to see incredible artwork that they may not normally see. It's a novel approach that will reap positive benefits for artists, the galleries, and art lovers."
ABC reflects PATTISON's continued investment in the arts community and the growth of artists. The cities, participating public art galleries and Onestop's mall locations in which artists will be showcased are:
ABC is another example of how PATTISON is contributing to the benefit of today's artists and further illustrates the power of digital media to enhance engagement for a variety of messages. This initiative will allow art galleries to broaden their audience and push their artists' work into new territories.