Gail Chiasson, North American Editor
We're a little late learning about this, but it was fun to see how OUTFRONT Media Canada helped the lovelife of some Canadians over Valentine's Day, Feb. 14.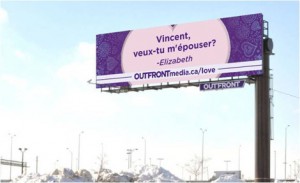 That day, OUTFRONT Media employed its Digital inventory to invite Canadians across the country to 'Share your Love'. Love notes received via a custom URL and online entry were played on OUTFRONT's national digital network with a 1.5 million daily circulation. OUTFRONT Media received over 260 messages of affection.
For example, Elizabeth asked Vincent to marry her.
Messages not only ran on the network, but OUTFRONT also posted pictures of the messages on the screens on its Facebook page and let everyone know that they could find them there. Consumers searched for their note and then shared it on their own social networks.
The 'Share your Love' campaign proved that Digital Outdoor gets noticed, drives emotion and links beautifully with social media when planned holistically:
OUTFRONT's Facebook total reach peaked over the Valentine's Day weekend at 9,766. For every person who sent it a love note, 38 others on average saw the message online. The Facebook posts generated 52,681 clicks, illustrating the ability of Outdoor and social media to amplify messages when used in combination.
"The promotion touched so many people, across so many demographics," says Michele Erskine, marketing director, OUTFRONT Media Canada. "It can be easy to forget sometimes how impactful Outdoor is for people but this campaign really brought that home in a very fulfilling way. Aside from many heartfelt submissions, we also received many notes of thanks and appreciation for the chance to send a message in such a unique way."
Oh, by the way, Elizabeth's grand, romantic gesture on OUTFRONT Media's digital network worked…. Vincent said "Yes!"