Gail Chiasson, North American Editor
Christie went down under to Australia earlier this month to showcase its visualization solutions for the first time at the 2015 Australasian Oil and Gas Exhibition & Conference (AOG), at the Perth Convention and Exhibition Centre.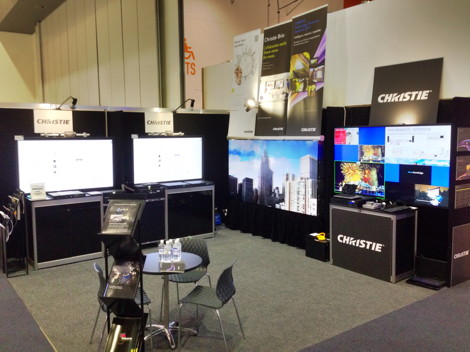 The annual event, which attracts over 600 exhibitors from more than 20 countries, and draws more than 15,000 visitors and conference delegates from around the world, provides opportunities for businesses to network and learn about the latest technological and technique breakthroughs which will drive the industry into the future.
The Christie booth showcased a broad range of advanced technologies and solutions suitable for the oil and gas industry that not only offer outstanding performance, but are also affordable and backed by years of proven industry experience and technical know-how.
Visitors saw a demonstration of Christie MicroTiles presented in an array of six units wide by four units high, featuring Christie JumpStart content management solution, which makes it easy to put high resolution content such as video, graphics and applications, and position it onto a large digital display. Christie JumpStart is optimized to 'plug and play' with MicroTiles to set the right resolution. Christie MicroTiles offer users design freedom to specify and install a superb digital media display which integrates into any space, such as operations monitoring centers.
Also on show was a Christie 65" LCD touch panel, targeted for multi-touch meeting room displays, laboratory electronic whiteboards or interactive digital signage. The LED edge-lit professional LCD display provides superior touchscreen performance, ProAV functionality and commercial-grade reliability in a sleek, easy-to-integrate package.
Seamlessly complementing these panels was the versatile Christie Brio Enterprise that enables secure collaboration and sharing of high-quality content between multiple locations with ease. It integrates smoothly into the local area network for access to Internet and network services. and any content from devices connected to Brio Enterprise units can be shared across all the displays in the same collaborative session, regardless of geographical locations to remove technical barriers and get people connected fast.
Rounding out the product showcase was the Christie Phoenix open content management system that enables continuous access and control of audio-visual data regardless of the user's location, and the 84" Christie QuadHD84 LCD panel, ideal for users requiring a high quality command and control display solution with a controller to display critical information. A network streaming solution at its core, the Christie Phoenix allows users to collaborate, synthesize and generate fast and accurate decisions in the most critical situations, while the QuadHD84's 4K resolution delivers a natural display performance without judder or blurring so is considered as ideal for deployment in the oil and gas industry.
"AOG is well established as the premier networking forum for oil and gas industry professionals, and we are pleased to participate in this major event for the first time to demonstrate how our latest visualization and collaborative solutions can add value to users from this industry," said Michael Bosworth, general manager, Christie Australia. "Christie has a wide range of data visualization solutions catering to different needs and budgets aimed at improving accuracy and reducing cost and risk for oil and gas companies."
Lin Yu, vice-president, Christie Asia Pacific, says, "With Australia's oil and gas industry revenue expected to grow through 2015, companies are likely to capitalise on data visualization displays and solutions where Christie has a strong track record. Thus, our involvement in AOG is timely, and we're confident that our leading visualization displays and collaborative tools can deliver the performance, reliability and value that companies in this industry can depend on."