Adrian J Cotterill, Editor-in-Chief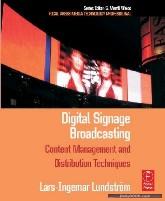 A weird title for a book as Digital Signage is usually seen as anything but "Broadcasting" and god knows what the Dutch who love the term 'narrowcasting' would make of it but anyway, this book is one of the first that we have seen claiming to be specifically about Digital Signage.
We have asked for a couple of copies to review and give away and will write more on it once read.
The publishers, Focal Press tell us that…
Digital Signage Broadcasting is a perfect introduction to this new world of opportunities for media professionals in all areas. Whether you are in engineering, IT, advertising, or management, you will gain knowledge on the operations of digital signage systems, content gathering, customer billing, and much more about this new and exciting medium. The book is also useful for educational purposes in media and advertising schools.

This book includes coverage of basic elements, examples of advanced digital signage applications, as well as traffic capacity calculation formulas that can provide guidance when choosing a means of distribution such as physical media, broadband, or satellite. Digital Signage Broadcasting helps you discover the fascinating possibilities of this new convergence medium with hundreds of color illustrations, created using the latest 3D graphics methods, and real-life photographs that show the capabilities and future of digital signage.
Lars-Ingemar has been quite a prolific author in English, Swedish and Norwegian since 1986 having published previously…
2006 Understanding Digital Television, Focal Press
2008 Digital Signage Broadcasting, Focal Press
1983 Digital-TV Handboken del 1 ( co-production with Lars Andersson)
1983 Digital-TV Handboken del 2 (co-production with Lars Andersson)
1984 Kabel-TV Handboken (co-production with Lars Andersson)
1986 Europas TV-Satelliter, Ingenjörsförlaget, Sweden
1989 Egen parabol –Satellit-TV för alla, Svensk Byggtjänst
1992 Parabol till villan, Svensk Byggtjänst/Teknisk Litteraturtjänst
2004 Digital-TV Handboken, Svensk Byggtjänst
1986 Satellitfjernsyn, Universitetsforlaget, Norway (co-production with Odd Gutteberg and Lars Andersson)
More background is available at www.digitalsignagebroadcasting.com