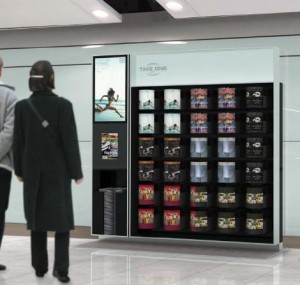 Take One Media, a 25 year veteran in the leaflet display stand business has given one of its products a modern look and feel with the inclusion of a portrait digital screen.
The stand shown here is not available until July 2009 but we liked the pre-production versions that we have seen to date.
There are 3 sizes of stand for 3 purposes – the large stand, typically for use in Airside Arrivals areas, a slightly smaller version for Landside Arrivals and Departures as well as a bespoke stand for exclusive use by a (as yet unnamed) single client who wants maximum exposure for their brand.
Clients for this product are likely to come from the theatre, attractions, museums as well as transport hubs. We like.