Adrian J Cotterill, Editor-in-Chief
The UK's NEC Showcase is not just known for its quirky venues and great food. Its solution oriented focus means that NEC partners and all of the exhibitors are encouraged, often at great length, to put what they do in context on the show floor.
In past years we've had dancers that have brightened up the venue but this year, we feel that the extra bit of fun was left to this caricature artist…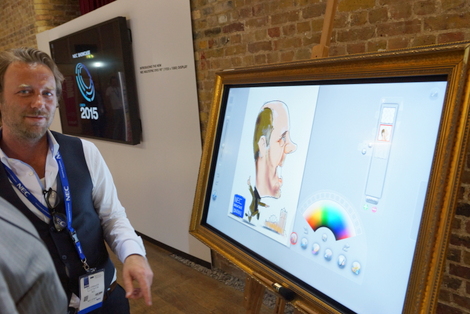 It took him between five and seven minutes to capture a face, all using an NEC ShadowSense Touch Display, his finger, a lot of skill and some magic brushes!
The caricatures should be coming through by email to those who sat for a portrait. Once we have ours, my co-chair at The DailyDOOH Investor Conference, Steve Nesbit and I, are going to have some fun with them in New York.
Watch this space!