Adrian J Cotterill, Editor-in-Chief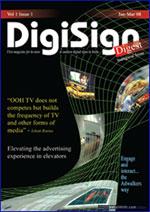 We received our complimentary first issue of DigiSign Digest this morning and good reading it makes.
As mentioned here before, it's the first magazine focused on the Digital Signage industry to be published in India.
We like the format (a nice compact A3 format), print quality was good and it was an easy read with some interesting articles.
The magazine didn't have too many advertisements which we liked – there was a nice mix of adverts and editorial copy. Adwalker had a nice advert pages 10 – 11 entitled "Engage and interact… the adwalkers way" which was actually quite a nice read (for an advert).
MediaTile get a nice article pages 30 – 31 about their recent Frost and Sullivan honour.
The magazine is definitely something that you would look forward to receiving and it's in a nice format that you could read it on your way into work.
http://www.digisigndigest.com/