Gail Chiasson, North American Editor
Montreal-based iGotcha Media has launched a mobile-to-digital-signage interactive tennis application, in support of National Bank of Canada's presentation of the Rogers Cup – Canada's premiere ATP/WTA tennis tournament (August 7 – 16 in Montreal and August 8 – 16 in Toronto).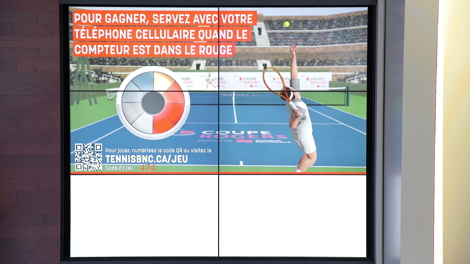 The concept is simple: Visitors at select branches may use any smartphone to connect and play a tennis game on large digital screens located in reception and behind tellers. Participants may scan a QR code or enter a URL into their Web browser, then enter a three-digit personalized code.
Using smartphone motion detection, the game allows users to experience a simulated tennis serve. Upon completing the game, users may enter a contest with the chance to win tickets to the Rogers Cup.
"This app is made possible using the latest technology," says Greg Adelstein, president, iGotcha Media. "Leveraging motion detection and high-speed connectivity, we are able to replicate the experience of hitting a tennis ball. It is a fun way to illustrate the power and potential of such applications. To the best of our knowledge, this is the first time that a major financial institution anywhere in the world has deployed this type of technology. The simplicity of delivering network access via smartphone is incredibly powerful. We look forward to harnessing this innovative technology in numerous ways that further enable our clients to offer exceptional service and engaging experiences to their customers."
The interactive tennis application will run through August 16, the closing day of the 2015 Rogers Cup.