Gail Chiasson, North American Editor
We had a chance to see Montreal-based IMPAX Media's new Digital Media Gate security system this week and were quite impressed with this startup company's new product that's geared for large merchandiser, supermarket and other stores with multiple checkout lanes.
"It's really suitable for any store with about 20,000 shoppers a week," Shmuel Gniwisch, IMPAX president, told us as we toured an IGA supermarket on Boulevard Curé-Labelle in Laval, Quebec, which has six of the 100 screens the company has already installed.
The Digital Media Gate solves several problems for retailers, while also giving them a share of the advertising dollars generated. For one, rather than a checkout counter being closed and blocked with a chain and/or shopping carts, the 32" screens move down to block the aisle. Second, to help control theft, the screens – which stop 19" from the floor – beep to alert staff if someone tries to go under them. When the checkout aisles are in use, the screens reside atop the endcap at each, where magazines, confectionary and other items are on display.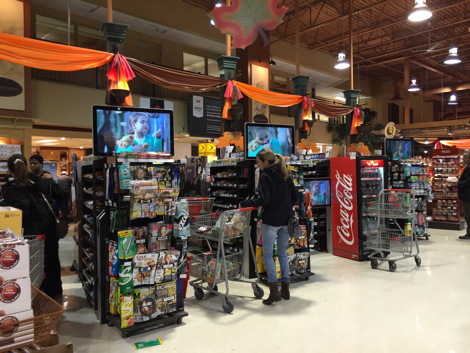 And while this all makes for a more attractive store, that's only half the picture, because the screens are equipped with cameras which not only count eyeballs for advertisers, but also identify customers in terms of where they fit into five different main categories, eg. males 40-60 or mother-with-child. By year-end, the screens will be able to target shoppers with ads specific to those target groups as they turn aisle-by-aisle with their shopping carts.
The screens currently play advertising alternating with entertainment information, news, sports and weather to keep people entertained while standing in line. First advertisers are such companies as Scotiabank, Werther's Original, Interac, Bell and Liberté Dairy Products.
In future, Gniwisch says, he would like to run longer, story-telling advertisements, as well as have ads run across the series of screens so customers could follow the action. In the IGA visited, eg, it is currently providing 240,000 ad impressions per month, with more to come once two more checkout aisles get their screens.
But first things first. Besides the 100 screens currently up – mainly in IGA, Metro and independent grocers such as Pasquier Grocery – "There are another 800 installations 'in the pipeline'", he says, and he plans to have 3,000 units installed by next summer. (Slow manufacturing seems to have been the only drawback to date, as the screens must be installed not only with the cameras but with the patented proprietary technology needed for current and future plans.) And the plan is to not only expand across Canada but to move into the US in a big way as soon as possible.
Gniwisch and his partner brothers hired itheir own team to develop the software and components needed, have a team for regular servicing, and are currently handling advertising sales in-house.
It's all a lot for one startup, he says, so he is open to discussing partnerships, especially for advertising sales and to help get traction in the US. He is also willing to license the technology to others.
By the way, this is Gniwisch's sixth startup, but it's his first step into the world of digital signage. Previous startups include Ice.com and Diamond.com online jewelry sales (now sold) and LionParts, a successful motorcycle parts company.
With this one, handled correctly, we think he can have another winner.
You can meet Gniwisch at the DailyDOOH Investor Conference Nov. 4, 2015, during New York Digital Signage Week.