Gail Chiasson, North American Editor
Access Sports Media, owner of the largest in-venue digital network within sports stadiums and arenas in the US, and Attract Media, a division of TouchTunes, the largest interactive music and entertainment platform in over 60,000 bars and restaurants nationwide, announced today a joint sales partnership, effective immediately.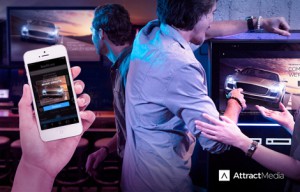 With competition for engaging ways to reach a young, affluent demographic on the go at an all-time high, this partnership will offer a turnkey solution to hyper-target consumers in an cohesive and impactful way through both mediums.

"Access Sports Media and Attract Media collectively now offer over 100,000 digital screens, which can be offered on a fully national basis, or hyper-targeted to a stadium, arena, and the surrounding bars," says Bill Meara, CEO, Access Sports Media.
"What is most exciting isn't simply the scale on the combined networks, but the digital capabilities to connect and interact with fans. Essentially, we are enhancing the consumer experience in and around our venues, while cohesively building customized advertising campaigns, which allow our clients to dominate iconic geographic locations on a single day, weekend or over the course of a season."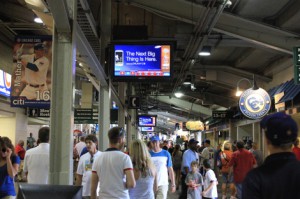 This new partnership will afford brands the opportunity to easily implement cross-network campaigns designed to engage an active audience, specifically sports and music fans. Custom sponsorships, cross platform integration, social and mobile sweepstakes and proximity messaging, will all be elements synchronized between platforms, providing a consistent message to the consumer both inside and outside the stadium, arena, bar or restaurant.
"Our partnership with Access Sports Media offers brands unique and compelling ways to further connect with sports and music enthusiasts beyond our 60,000 social venues nationwide," says Jim Wilson, COO, Attract Media (Touchtunes) "The ability to message this fan base before, during and after a game or concert is a tremendous opportunity and one we're very excited to bring to market."

Access Sports Media provides advertisers with video and television advertising solutions broadcast over its digital network of 25,000+ television screens located in more than 50 MLB, NHL, NBA and NFL venues nationwide. The company inserts pre-game and in-game advertising, promotion and content during breaks in the action. Access Sports Media also offers advertisers cross-platform, digital-out-of-home, social media, mobile, and in-venue sponsorship opportunities through its close relationships with its team partners. The Company's network engages 70 million sports fans every year who are passionate about watching the game as they move throughout the stadium and loyal to the sponsors who support their teams.
TouchTunes is the largest in-venue interactive music and entertainment platform, featured in over 71,000 bars and restaurants across North America and Europe. TouchTunes' platform provides location-based digital solutions that encourage social interactions through shared experiences. Music is at the core of TouchTunes experience with millions of songs played daily across the network and a mobile app that lets users find nearby jukebox locations, create playlists, and control the music in-venue directly from their phone. The mobile app is available on the iOS and Android platforms and has been downloaded over 4 million times. TouchTunes award-winning products and services also include an integrated photo booth, the first fully licensed commercial karaoke system and an interactive TV messaging and engagement solution. Attract Media, a division of TouchTunes, is a highly scalable digital out-of-home activation platform that provides targeted advertising and promotional opportunities for consumer brands. TouchTunes is headquartered in New York City, with offices in Chicago, Montreal and London.