Adrian J Cotterill, Editor-in-Chief
There is a surely an argument that if events or conferences don't improve year on year then one should change tack or perhaps give up. No chance there then, with New York Digital Signage Week which last week celebrated its best ever number of events, its biggest ever attendance, the support of three major industry associations, support from the major industry trade show, support from four of the biggest screen suppliers and the inclusion, for the first time ever, of two new INNOVATIVE 'happenings' (more on that later).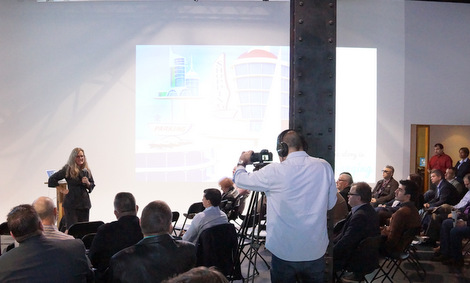 The week's get together and much-needed industry networking started, as usual, with the Barco #NYDSW Reception, now a traditional event to kick off the week. Fifty plus people gathered to listen to a keynote speech by Laura Davis-Taylor, executive vice-president customer experience at MaxMedia who discussed the changing shopper and retail environment under the topic 'Innovation 2016: connecting data, devices, sensory and solutions' (you can read about how great she was here). Food and drink was served and it was hard to get people away much before 19:00 such was the chitter-chatter and discussion afterwards!
On the kick-off Monday however there was also the first of two brand new style events that week; the brainchild of AVNation and sponsored by Daktronics, who kindly loaned the use of their office overlooking Clear Channel's Revlon Spectacular (shown above), 'AVNation Live at Times Square' was an hour long video podcast special. I don't need to explain it as you can watch it here. A great format, a superb host and brilliant panelists makes this one of the first events that we know will be repeated next year.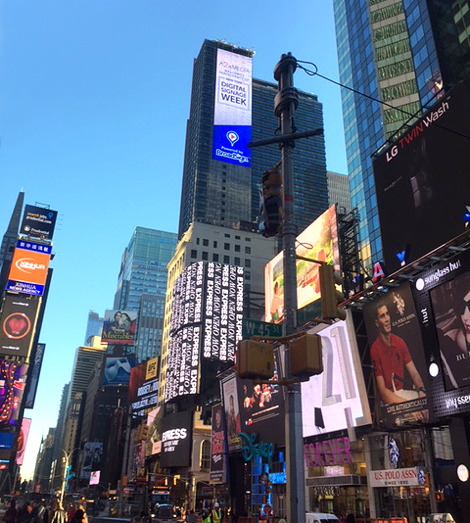 Tuesday (and Wednesday) saw BroadSign and A2AMedia hoist their own digital creative above Times Square (see above pic), in a rotation with adverts for Aladdin, and the Lion King.
Tuesday also saw two big extremely big things; one was probably Barry Frey's greatest industry moment and the second was the Digital Signage Federation's uniquely formatted Coffee and Controversy breakfast debate. Let's cover that second item first – as shown below…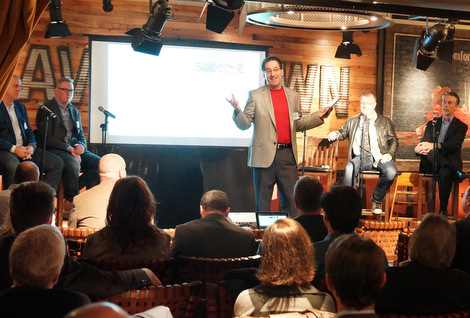 Not only did the DSF decide on a speaking event – rather than a much more easy, sometimes-can-be-boring-usually-far-too-many-of-them cocktail drinks thing, they came upon a debate format which saw audience participation (via a cool mobile voting app), true dialog, animated discussion and much needed industry debate. The event was superbly moderated by Ken Goldberg and could have easily ran for 90+ minutes (rather than the just over an hour it was given). Did we say that the breakfast was awesome as well? If that informative debate wasn't enough for people that morning, the DSF joined together with the organisers of DSE to put on a special bus to go tour the Fulton Centre after!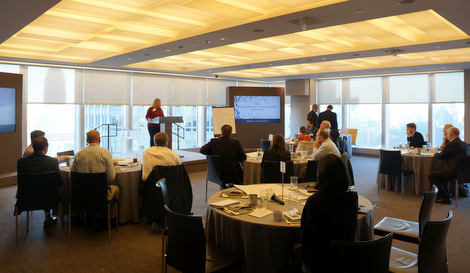 With Telecine's James Fine help the week saw an invite only caring / sharing corporate comms / employee communications workshop at JP Morgan Chase (shown above). Our technical director Andrew Neale went along. It was a truly inspiring workshop which will be opened out to some more invitees next year.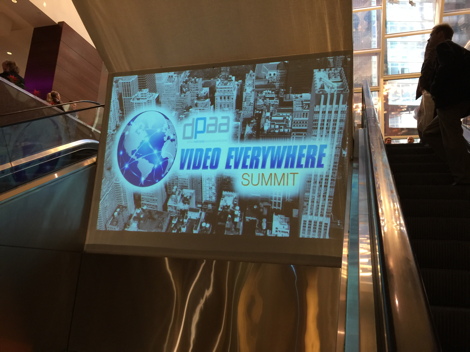 Barry Frey and team really do seem to have got into their stride with the DPAA #VideoEverywhere Summit. Everyone (and we mean everyone) we spoke to that week said it was easily the best ever and Barry's introduction speech was superb. With almost 800 registrants, this event has got better and better and is the go to event for media and ad people interested in the digital place based industry.
New to the week was Planar Systems, who did their own open house near our team hotel down in Hell's Kitchen on both the Tuesday evening and the whole day Wednesday.  With all the people in town for all the other events it was full the times we popped in and hopefully will be repeated next year.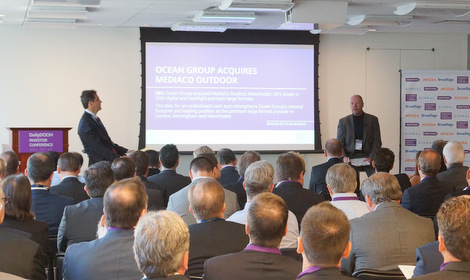 The middle day of the week saw 100+ people attend The DailyDOOH Investor Conference (we'll have more on that in a separate post) and the usual NEC Display Solutions Showcase (in a new and much nicer venue this year – see picture immediately below)). Needless to say The DailyDOOH Investor Conference had a great keynote, superb speakers and much networking and business was done.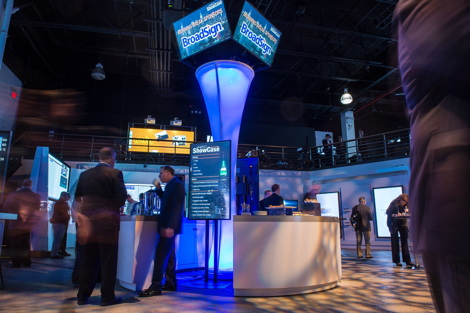 The NEC Showcase attracted a lot of new exhibitors (drawn from their partners of course) and hundreds of people passed through their doors.  This was Keith Yanke's first Showcase that he had put together in charge and it was probably their best ever.
Another regular event and by far the hardest to get into was the 'Out of Home + Retail Tech Cocktails & Conversation' a VIP, by invitation only event put on my Mark Boidman and Peter J Solomon Company. With close to 200 senior industry people in one place and food brought in especially by Ruth's Chris Steakhouse this was one 'after-party' not to miss.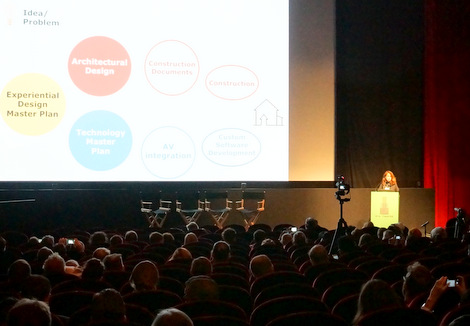 Thursday and Friday saw SEGD's involvement in the week for the first time. I've rarely seen a theatre so packed with people eager to learn and SEGDs' #Xlab2015 conference really, really good and a must for anyone into content, design or who considers themselves creative in anyway. Friday morning also saw an 'Experiential Retail Showcase Walking Tour' sponsored by Reality Interactive.
Next year, New York Digital Signage Week will take place October 24-28, 2016.