Her Majesty Queen Elizabeth II and the Duke of Edinburgh this week officially opened Birmingham's New Street station after a GBP 750 million revamp and as part of the 'opening' they magically appeared on Ocean Outdoor's new Birmingham Media Eyes.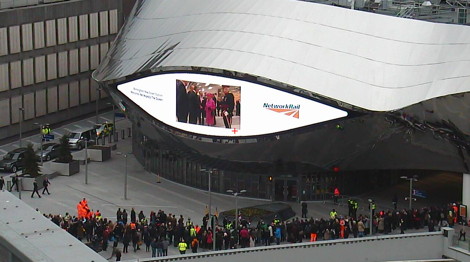 The Birmingham Media Eyes is a unique full motion digital out of home activation in Birmingham's newly regenerated business, transport and retail hub. Passers-by will note that it is seamlessly integrated into the new architecture of Grand Central station and shopping centre. There are in fact, three uniquely shaped full motion digital screens located above each of the entrances to the station, targeting all footfall in and around the development.
The Birmingham Media Eyes is one of the finalists in the Best Original Digital Billboard category at The DailyDOOH Gala Awards which takes place in less than two weeks time in London at Banqueting House, on December 3, 2015.