Subway riders can now shop for holiday gifts inside New York City subways via an interactive experience on the Metropolitan Transportation Authority [1]'s On The Go kiosks.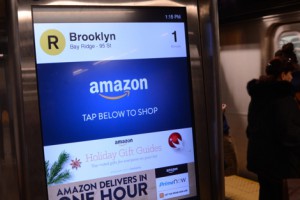 [2]On The Go (OTG) kiosks featuring the Amazon Holiday Gift Guides, at the 14 St-Union Sq station on Mon., November 30, 2015.
Photo: Marc A. Hermann / MTA New York City Transit[/caption]Featuring thousands of curated products, the holiday gift guide sorts in real-time, based on popularity across the nearly 100 kiosks citywide, which are operated by technology and media company Intersection, New York.
The On The Go shopping experience enables millions of daily riders to seamlessly browse, shop and purchase products on the kiosk display and push selected products to their phones via text message or email to complete the purchase. More than half of holiday shoppers plan to shop on their smartphones throughout the day while walking or commuting, and over 40% are likely to use their phones to pay for products, according to a recent Google shopper survey.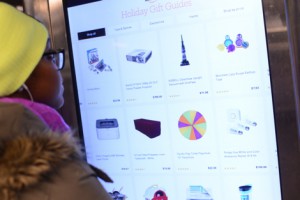 [3]"For today's urban consumers, shopping no longer means daylong marathons like Black Friday or Cyber Monday," says Damian Gutierrez, innovation strategy lead at Intersection. "It happens at hundreds of moments throughout the day. This campaign brings holiday shopping directly to consumers where they actually are, enabling a seamless experience from research and discovery all the way through to purchase."

Now in its second year, the holiday shopping experience is expected to reach more than 2.2 million riders per day in 15 stations, including major hubs like Grand Central Station, Union Square and Brooklyn's Atlantic Terminal/Barclays Center.
"This campaign's use of our On The Go network is a great example of innovative, interactive digital advertising and exactly what we hoped to see as we began the deployment of kiosks in subway stations across the city," says Paul Fleuranges, vice-president of corporate communications at NYC Transit. "It is yet more proof of the power digital-placed based networks have in helping brands reach the consumer on the go throughout their daily journey."
[4]The campaign marks the largest network of interactive Digital Out-of-Home storefronts anywhere, the first time a brand has taken over Intersection's entire On The Go advertising program and the first fully interactive ad program on the kiosks. The shop runs through December 23, the last day consumers can buy online for delivery by Christmas.
As part of a public-private partnership with MTA NYC Transit, Intersection developed and built the On The Go kiosks to deliver the most relevant information to the greatest number of people in the largest public transit system in the Americas. Intersection's kiosks provide countdown to arrival, one-touch visual directions based on real-time train status, and neighborhood maps – all paid for by dynamic, contextually relevant advertising. While most digital display kiosks offer only traditional DOOH, Intersection's feature programmatic, TV/video and transactional advertising.