Gail Chiasson, North American Editor
After learning last week that Cieslok Media, Toronto, and Sito Mobile, Jersey City, had partnered to provide Cieslok Media exclusive access in Canada to SITO's propriary platform, we interviewed Jorg Cieslok, president and CEO of the Out-of-Home and Digital Out-of-Home company, to hear more about the deal and the company in general.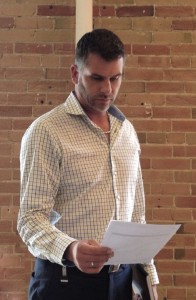 "The agreement with Sito Mobile will be a real differentiator for Cieslok Media," said Cieslok. "I started getting interested in the world of mobile and consumer engagement while working with Titan Outdoor in Chicago before moving back to Canada in 2011. Mobile is an outdoor medium when consumers are out and about, and outdoor billboards are always on. The ability to connect with the consumer is always on, and we at Cieslok Media have been geofencing for a long time.

"The difference with this is the data. Sito Mobile's platform gives us the capability to connect and understand consumers at a one-to-one device level through their path to purchase.
Cieslok runs ads on its billboards. With the mobile device, it can go deep into locating and identifying (anonymously, of course) the specific consumer, within the geofence learn that consumer's behaviour and push mobile ads that will not only reach him/her, but will be able to learn directly of the follow-through, ie, did the consumer have the opportunity to purchase the product after seeing the ad – all with Sito Mobile's's proprietary platform. There's no 'middle man' or beacon involved.

"For us, it's a direct path from the billboard to the bricks-and-mortar stores," says Cieslok. "We're morphing into a data-driven company. It's becoming a strong component of our business."
Cieslok Media has grown 25% in each of the last three years, he says, and, with Sito's help, he expects that the next year will be Cieslok Media's biggest growth year yet.
"It will help us grow significantly," he says. "It should help us gain market share. And we'll also have growth from both new boards and organic conversions."
Cieslok Media is converting some static boards to digital (and is converting some signs to Scala). He also mentioned that people don't tend to think of Cieslok Media as a mobile company but now, with Sito Mobile, that is likely to change.
Cieslok told us that the company had recently done two integrated campaigns with Sito Mobile: one with an automotive company and the other with consumer electronics.

"It takes about four weeks to get the results," he said. The automotive campaign is finished so results are expected soon – including seeing the cost of the campaign click-throughs – but the electronics client decided to extend the campaign, so results for that will be longer coming. And not all campaigns will be judged by clickthroughs.
"It will depend of the campaign objectives, on the value proposition," he says.
Cieslok told us that the company's management team had changed over the past years, as well, with Danny Starmino, an early partner, returning to the company as vice-president business development; Chris Doyle, formerly with Ash City Worldwide and ARTEX Environmental, joining the firm as CFO. Oleg Paikoff, formerly with Clarity Outdoor, also joined the company as digital solutions architect.
Cieslok Outdoor represents screens which dominate at Dundas Square in Toronto and owns 36 digital screens, 39 spectaculars, plus wallscapes and other outdoor media in Quebec, Ontario, Alberta and British Columbia.