Gail Chiasson, North American Editor
Cieslok Media, Toronto-based large-format outdoor advertising company, has expanded its digital inventory with four new digital boards in Mississauga, Ont..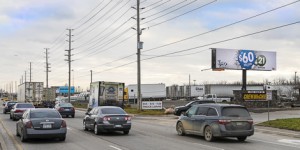 The two digital doubled-sided structures are located on Dixie Road, one of the key routes for commuters accessing both Highway 401, the 407 Express Toll Route and Derry Rd. They are close to Toronto's Pearson International Airport as well as major hotels and commercial parks.
The programmable large-format (10' x 35' and 14' x 48') boards incorporate the latest digital technology, including social media integration, real-time triggered events, day parting and HTML5 custom content. The eye-catching, rich colour, high-contrast screens are capable of displaying up to six 10-second ad units in a 60-second loop.

"These screens are a key addition to our inventory," says Dan Starnino, vice-president of business development for Cieslok Media in Toronto. "They offer a spectacular can't-miss advertising environment in one of Canada's fastest-growing and most affluent cities."
Mississauga is Canada's sixth largest city, with a population of 752,000 – 37.1% of which is people between the ages of 20 and 44 – and an annual household income of $95,052.