Gail Chiasson, North American Editor
We had the opportunity to interview Luke Irving, founder and managing director of Fingermark in Auckland, New Zealand, last week, pulling him away from a beach-and-lobster type holiday with his young family on the South Island to talk about his expanding 10-year-old company.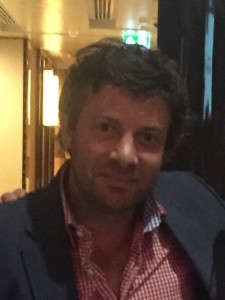 Fingermark wasn't on our radar until recently when we became aware that he was 1) distributing Real Digital Media's NEOCAST platform in Australasia and the Middle East (as well as incorporating some NEOCAST features with at least one of his own new products; 2) has joined the Digital Signage Federation; 3) opened an office in San Francisco; and 4) has developed, or is in the process of developing no less than five new products.
Irving is definitely an entrepreneur, and for the first three years of Fingermark was a one-man show in a company that now has 12 people, including his new hire, Cassidy Young, vice-president of sales for North America. I
Irving got hooked on digital signage when, in one of his previous unrelated jobs, he saw a digital sign on the wall and said, "That's what I want to do." His uncle bought into the company after a few years which helped finance the growth that now sees Fingermark digital signage in New Zealand, Australia, Middle East, and soon, he hopes, in North America.
"We plan to be a global company," says Irving, who will likely be looking for investment help down the line.
Helping his ambition is the company's development of five new products, with the help of both his own software development team of five plus Fingermark's teaming up with an unnamed US company that has commercialized Pelletier technology out of the University of North Carolina.
While Fingermark's growth has come through developing interactive kiosks, touch screens, touch tables, video walls, menu boards and more for a variety of clients large and small, the company is now concentrating on the QSR sector. It has already been heavily into menu boards and handling digital signage in New Zealand, Australia and the Middle East for such firms as KFC and Carl's Junior.
"We wanted something very reliable for the QSR sector, which is how we found Neocast," says Irving.
Now, he says, he has pushed the aforementioned unnamed company to develop HTNI technology for his new product Digital Cell, geared for durability in high weather conditions for outdoor boards for drive-thru QSRs. The Digital Cell product has a alloy extruded enclosure; optically bonded AR glass; 1000 nit (1500 capable) HTNI 46" panel (32" and 55" in development); and – its biggest feature – is a 300 watt ultra-efficient cooling system, remotely managed and capable of withstanding temperatures of up to 110 degrees. Neocast is integrated in the Digital Cell.
"Digital Cell is extremely cost-efficient," says Irving. "And it's really slim with an incredible depth of only 125 mm, making it one of the slimmest, if not the slimmest, of outdoor enclosures and screens. It's self-sufficient so you can hang it on a wall or pedestal with no additional enclosure. You can fit a reasonable-sized standard PC in the back."
Another product soon to be released is the Sensor. This allows a screen to work as a smart responsive device which helps with loyalty recognition, tailored displays, and more, using a balance of existing hardware technologies such as beacons, NFC and GPS.
"It will allow the digital screen to understand its environment," says Irving.
Also under development and in pilot tests in New Zealand and Australian QSRs is the People Portal. This allows for digital engagement with human resource people and clock-in employees. It can be used for product information, health notices, training and more. Cloud based, it can be used not only for QSRs, but also by factories and various primary industries.
A fourth product, titled Florence, will help manage queues in hospital waiting rooms, health facilities and more. And a fifth product is PAT, "which will help in the way you send parcels," says Irving.
"Our biggest concentration right now is on the Digital Cell," he says. "We think this product will create ripples in the drive-thru market. It's easy to install, easy to use, and low cost. We understand drive-thru pretty well and we believe we have taken a large step forward in creating a cost-effective, self-sufficient outdoor screen."
Ken Goldberg, CEO of Real Digital Media, Sarasota, Florida, agrees.
"We think it is a breakthrough product," says Goldberg who mentioned that there are a number of other nice pursuits going on in New Zealand and Australia. "Drive-thrus comprise a majority of QSR sales volume, but digital solutions for drive- thrus have historically been expensive and have not performed well in temperature extremes, slowing deployments both inside and out. We thing the Digital Cell solves both issues."

Fostering the company's culture of innovation, Fingermark's own software team is developing its own platform, spinning off products like kiosk software for the People Portal, Florence and PAT for the health sector, postal sector and more.
We asked Irving if he will be replacing any of his current clients' products with the Neocast platform, he said that there were no plans, but that Neocast platform features could be incorporated in future work.
And signaling the closeness developing with Real Digital Media, Irving has strategically booked his booth next to Real Digital Media at the upcoming #dse2016 being held March 15-18 in Las Vegas.