Gail Chiasson, North American Editor
Adding to a growing portfolio of airport installations around the world, NanoLumens has announced the completion of a new installation at the Honolulu International.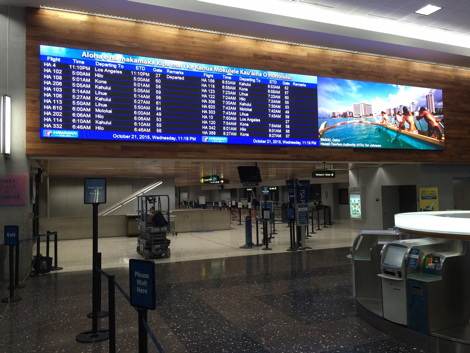 In partnership with Oklahoma City-based systems integrator Ford Audio-Video, NanoLumens, Atlanta manufacturer and innovator of LED display visualization solutions, installed two 44.65' X 7.28' NanoLumens NanoSlim LED display solutions that now serve as the central traveler communications platform for an improved experience.
According to Airport World, environmental graphic design within airports is often not the first thought when looking to boost revenue, but it has a tremendous potential to influence a traveler's experience. J.D. Power and Associates reports that happy passengers spend an average 45% more than grumpy ones or $20.55 versus $14.12 on airport retail purchases in shops and eateries.
The Honolulu International Airport project joins a growing list of NanoLumens airport installations that now include: London's Stansted and Heathrow Airports, Detroit Metropolitan Airport, Miami International Airport, Atlanta Hartsfield-Jackson International Airport and Darwin International Airport in Australia.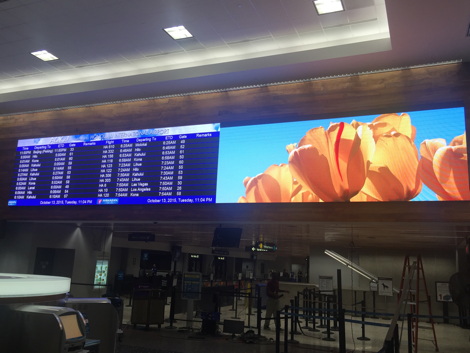 "More and more airports understand that large format LED based visualization solutions are the best way to cut through the clutter and engage hurried travelers with critically important messages, information, and, in many cases, sponsored advertising content," says Eric Seigler, NanoLumens regional sales manager "The Honolulu International Airport installation represents the latest addition to our transportation portfolio, with more to follow."
NanoLumens worked with Ford Audio-Video to install two 44.65' X 7.28' NanoSlim 6MM pixel pitch solutions to help the airport operators more efficiently and compellingly communicate flight information to travelers. Ford Audio-Video selected NanoLumens for the project based on its demonstrated ability to custom design solutions in any size, shape, or curvature that are also thin, light in weight, and easy to service.
"Ford Audio-Video has partnered with NanoLumens on many successful projects," says Ed Knoll, bid division manager, Ford Audio-Video. "NanoLumens was selected for this project because of its strong integrator support program, superior product performance, and long-term performance reliability. The NanoLumens team is very accessible and responsive, and is always eager to help us with design and creativity."
Travis Ellis, Ford Audio-Video project engineer, says, "Ford Audio-Video has been the long-term provider of Public Address, Flight Information Display and Gate Management System Maintenance and AV integration at the Honolulu international. The goal of the project was to provide departure flight information that could be visible throughout each of the two lobbies that are approximately 120' in depth. Additionally, the airport required that there be additional LED real estate space to show additional content of passenger interest, such as a destination city's weather and a Hawaii tourism video slideshow."
To operate the NanoLumens 6MM, 2,000 NIT visualization solutions, Ford Audio-Video installed SITA manufactured software running on Dell Optiplex computers to generate the flight information in addition to a BrightSign solid state media player to output the destination city weather and Hawaii Tourism video slideshow.
Each display is extremely slim, ultra-lightweight, energy efficient, featuring a bright, seamless, high-resolution picture quality that can be viewed from any angle throughout the display horizon without color shift or image distortion.

"This is the first large format LED display installation at the Honolulu International Airport," says Ellis. "The success of this project should help us to bring future large format LED displays to lobbies four through eight of the airport's overseas terminal."