Gail Chiasson, North American Editor
"It's our biggest deployment ever for a single customer," Jerome Moeri, founder and CEO of Navori, told us from the company's head office in Lausanne, Switzerland, last Friday.
We were discussing his company's software use behind a mobile ad player network now located in 20,000 taxis in the Middle East and Asia – a network with planned expansion to 50,000 cabs in those areas and possibly Egypt within the next two years.
It all began when Penciline Agency, a subsidiary of a real estate group based in the Middle East and Asia, launched an innovative advertising concept where digital signage screens would be used to inform and entertain taxi cab passengers.
Navori became involved in 2013 when a Chinese hardware manufacturer contacted Navori Labs looking for assistance with the development of a custom tablet for public transport applications. Navori Labs was selected as a supplier of the CMS software based on the company's reputation as an European digital signage pioneer.
"We were founded in 1997 as a pure software developer – the first in Europe for digital signage," said Moeri – really? I think you will fin that Scala were found in the 1980's,Ed.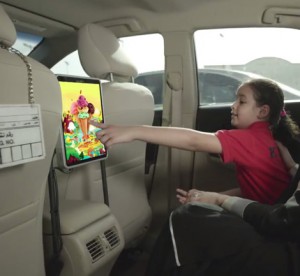 The backbone of the system is a tablet that runs the Google Android operating system. Each tablet screen, located 60" from the cab floor between the two front seats, is equipped with a 4G or 3G cellular modem to support content updates, live data delivery and real-time GPS tracking. The tablets show ads and entertainment content with a live data ticker overlay.
"It's connected to the Web and the GPS," Moeri told us, adding that the 20,000 cabs using the system belong to 250 different taxi companies. The taxi cab operators can access dedicated time slots for their own advertising needs, and can text and overlay messages if required.
Dealing with 250 different companies – quite a feat in itself – as well as advertising sales, is all handled by Penciline.
To deliver the specific features required for this project, Navori Labs recommended the Navori QL Server Professional with several add-ons. The standard Navori QL Player was used for content playback on each tablet. A few custom algorithms were developed for this project and these were eventually added to Navori's standard software product, making them available to all its customers.
Some of the new features include:
Additional support for unstable data connections with enhanced upload management capabilities;
Bandwidth optimisation to limit organic bandwidth consumption – specifically designed to reduce bandwidth use on 3G connections and give priority to content downloads;
Recovery of each taxi cab location via real-time GPS position data;
Counting the number of passengers;
Engine detection mode that puts the tablet in a sleep/off mode when taxi cab's engine is shut down.
The advertising add-on module are used to manage ad slot reservations, ad campaign management, proof of playback/ad impression reporting. The entire network is organized by city and country so targeted content is always delivered to the right location.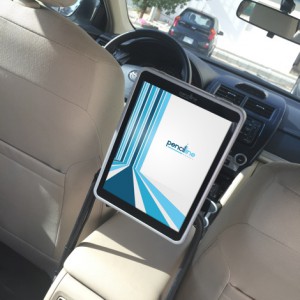 Moeri says, "A deployment of this magnitude represents a milestone for our industry. We put all of our experience and know-how into this project and the results speak for themselves. We feel privileged to have been given the opportunity to participate in this project."
Moeri told us that, since women cannot drive in much of the territory covered by the current deployment, taxis are used a lot. The taxis are owned by private companies, but to carry advertising, they must have a licence, which Penciline buys. The media players used are built in China.
Navori itself is focused strictly on software, and doesn't sell directly, only working with partners. It brings out one software release with new features each year.
"We are small and discreet with a staff of about 45," says Moeri.
Nevertheless, Navori sells worldwide, with 30% of its business in North America. Besides its Swiss headquarters, it has offices in Saudi Arabia, Montreal, Buenos Aires, Germany, and recently opened a new office in India.