Adrian J Cotterill, Editor-in-Chief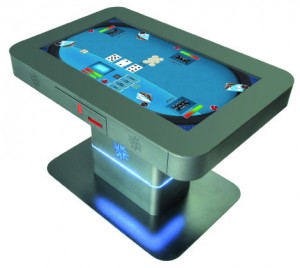 The Fun4Four gambling table from TAB-Austria is an interesting gaming concept. The table incorporates a 42" MicroTouch System Dispersive Signal Technology (DST) 2270DX touch screen from 3M.
Whether this new concept presents a "significant return on investment for casino or arcade owners" as it claims (increased use through multi-player interaction?) is to be seen but it certainly shows the trend of screen technology being built into things.
Siegfried Dattl, CEO of TAB-Austria told us "We considered many competitive technologies for this specific gaming table application but 3M's DST 2270DX came out on top for its multi-player support, ability to scale to large sizes and its quick touch response, even with static objects resting on the glass surface or other players touching the screen"
The table responds to a player's intended touch (finger, fingernail, pencil, prosthetic device, credit card or almost any type of stylus) yet ignores the presence of any inanimate objects such as glasses, bottles, ash trays or keys should they be placed on the touch screen rather than the table frame.
Fun4Four was demonstrated in the UK for the first time on the TAB-Austria and 3M Touch Systems stands at IGE 2009 in London and is already shipping to customers with great success throughout Germany, Spain, Austria, Luxembourg, UK, Ireland, Switzerland and other regions.
About TAB-Austria Industrie- und Unterhaltungselektronik GmbH & CoKG

TAB-Austria, located in Ansfelden closed to Linz, Austria, was founded in 1962 and is one of the leading manufacturers of amusement terminals. Presently, the company has an export quote of more than 98.5% and works with distributors all over the world. The product range includes the touch screen terminals SILVERBALL (including more than 250 different games), the juke box MAX FIRE, the global unique FUN4FOUR and many more. TAB-Austria has more than 130 employees.