Gail Chiasson, North American Editor
It's only 10 months since we first interviewed AdMobilize, a young Miami-based company that was introducing its AdBeacon at the OAAA/TAB convention at that time, but in that 10 months, this Miami-based company has made a major progression in its offerings.
The AdBeacon as we saw it last May contained a camera for compiling data on the viewers, a GPS, an on board processor, Blue Tooth, a Wi-Fi connection and advanced object algorithms.
It could plug into any digital billboard or traditional poster, and it used advanced algorithms regarding facial recognition and object recognition.
"Since then, we've come a long way," says Isabella Mongalo, brand manager. "First of all, we started really selling the AdBeacon in July. Coca-Cola and Nintendo started us off with pilot programs, and since then we've had interest not only in the US but in places like Peru. We have distribution through Verizon's sales people so they bring in clients, too."
AdMobilize management, headed by Rodolfo Saccoman, told us last year that the company planned to raise a Series A funding and Mongalo says that the company has raised $5.8 million to date and is still in the process of seeking Series A funding to continue growing the team – now numbering 32 in new offices – and "building great tech."
Mongalo says, "Currently, we are in advanced conversations with top VCs while we work with such companies as HAVAS in Peru, Mexico, Chile and Brazil; Orion PC in Brazil; Virtual Media; Caldera International; and regional developers. At this moment, we have hundreds of AdBeacon deployments. In addition to what we already had, we can now offer both vehicle detection and crowd analytics, as well as the extensive people analytics. Detecting age, gender, and emotion with individuals as we do is very complex. Now, our metrics have over 90% accuracy. We do the most to understand audiences in real time."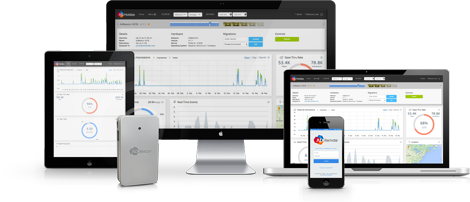 Crowd analytics is optimal for anonymously measuring the activity of large audiences eg. at malls or stadiums.
Mongalo points out that a special advantage of AdMobilize's software is that it can integrate and work with almost any system.
"We're agnostic and can put our algorithms onto any feed," she says.
For its local face detection, the company has also reduced bandwidth consumption by over 90%.

"If you previously used a hotspot to connect your AdBeacon to the Internet, you were likely consuming more than 1 GB of data per day," says Mongalo. "With our new updates, you will likely consume less than 1 GB of data per month.

"Due to the resounding success of AdBeacon technology and all the market research we have conducted in the past year, we also recently launched a revamped website where people can buy AdBeacons online and have been receiving an influx of orders since."
Users pay $199 for the hardware, and licences cost $75 monthly with Wi-Fi or $100 monthly with 3G connectivity.
And, in addition to its AdBeacons, AdMobilize now offers a MATRIX platform where people anywhere can build and download apps for their home and business. It tends to follow right along Saccoman's plans to connect the physical world to the online grid. The MATRIX platform got underway Kickstarter backers and pre-orders.
With MATRIX, the user can connect to and interact with other IoT devices already in his/her home or business, pairing them seamlessly using a mobile device or through the web.
One of the Matrix features is gesture recognition which allows AdMobolize to deliver touchless technology for digital signage operators to engage their audience. Gesture recognition is a new addition to the AdMobilize technology stack.
An example of how AdBeacon technology and gesture recognition could come together to create dynamic ads for brands would be, eg. for a political party that wants to run a poll on candidate support for a specific demographic. Through the use of webhooks, the AdBeacon would send demographic data to a Content Management System installed on digital signage within a mall. When the CMS detects the specific demographic the party is looking for, it supplies the party's ad on-screen. When this ad plays, gesture recognition activates. The ad may have a picture of the candidate and prompt passersby to give a thumbs up or down to express their opinion.

"AdMobilize has decided to very much focus on the out-of-home sector, using our products at bus shelters, billboards, digital and static out-of-home posters," says Mongalo. "We are looking at getting into airports, as well as the retail sector, in coffee shops and more."
AdMobilize will be showing its AdBeacons' features and gesture technology at #dse2016 at Booth FT3.