Gail Chiasson, North American Editor
Looking at the displays at Planar's busy booth at #dse2016 last Thursday made me wonder how some companies can really get it so right: the screens and video walls by Planar have such narrow bezels that they seem almost non-existent.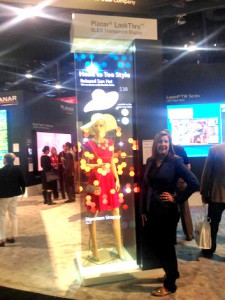 Perhaps we should be saying Leyard's/Planar's 'seamless' video walls because it's a little hard to know where one company ends and the other begins, and since Jennifer Davis holds the roles of both chief marketing officer of Leyard and vice-president, marketing and product strategy for Planar Systems, we weren't about to fuss re what was one company's products compared to the other. All we can say is that we were impressed.
Planar showed a 0.9 mm LED video wall solution – showcasing the ultimate in ultra-fine pitch LED video wall technology. This – okay, Leyard – TW series is built to support the highest pixel density, and with pixel pitches of 1.2 mm, the wall seemed crystal-clear even close up.
The Planar DirectLight LED Video Wall System also offers fine pitch LED video walls that provide a superior visual experience with precision alignment and is geared for 24×7 reliability and front serviceability. (Love that feature – Ed) These LED video walls are available in four pixel pitches – 1.6, 1.9, 2.5 and 3.1 millimeters – delivering a uniform and seamless canvas of nearly any size or shape.
Planar's Clarity Matrix LCD Video Wall System product line has a tiled bezel width of just 1.4 millimeters. Planar was showing the new Clarity Matrix App, which allows users to control their Clarity Matrix LCD video walls using their smartphones and tablets. Available for Android and iOS, this free app enables users to perform basic functions such as turning their Clarity Matrix video walls on and off and switching sources from their own mobile devices.
"I see this as really good for conference rooms as well as regular signage," said Davis.
It's only a couple of months ago that Planar also introduced its PlanarView Visualization App which is ideal for corporations, retailers, hospitality firms and other end users who want to visualize the exact configuration of their selected Planar displays in their real-world environment before making a purchase.
Of course, Planar was showing its OLED video wall, and its Planar LookThru was being demonstrated with a mannequin inside and information on her clothing appearing on the glass.
Aside from the main showing on the floor, during the Society of Environmental Graphic Design (SEGD) keynote luncheon, Davis awarded Fivestone Studios of Nashville, Tennessee, the first ever Clear Concept Award for the most innovative use of the Planar LookThru OLED transparent display and led a discussion about the winning choice with Fivestone representatives.