Adrian J Cotterill, Editor-in-Chief
Next Tuesday May 17, 2016 The DailyDOOH Media Summit takes place in The David Lean Room, BAFTA, 195 Piccadilly, London W1J 9LN, as part of London Digital Signage Week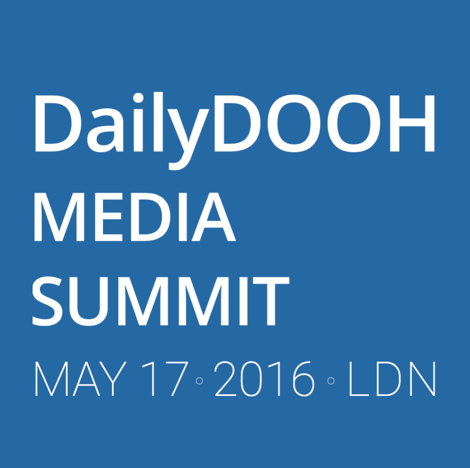 Here's the agenda…
08.45 REGISTRATION & BREAKFAST
09.30 Welcome
09.40 Out of Home 2.0 | Sarah Speake | Chief Marketing Officer | Clear Channel UK
As digital Out of Home revenue reaches 50%, Clear Channel's CMO, Sarah Speake, offers a personal perspective on what's next for our industry. What does more digital and more data really mean for Out of Home? What are the fundamental changes the sector will undergo and what steps should Out of Home media owners take to continue to meet the needs of advertisers and consumers?
10.10 Dynamic DOOH at Scale | Andrew Newman | CEO and Co-founder | DOOH.com
Dynamic DOOH campaigns have caught the world's attention. But how do we move on from stunt based campaigns to automated dynamic campaigns at scale. We'll look at the complexities of those successes and to the future possibilities and opportunities of cross channel activations.
10:40 Eyes are so yesterday. Are you ready for the future of … | Dino Burbidge | Director of Innovation and Technology, WCRS
There hardly seems to be a day goes by without some artificially intelligent bot kicking our weedy human ass. If it's not playing games, it's discovering anomalies in genomes or learning to drive a car by itself. While these may seems futuristic, the advertising world (and especially DOOH) is leading the charge. We can target ads based on who's looking, we can track you through a public space using your phone, we can make you hear what other's can't. We can even beam your holographic body to the other side of the world. But that's just the beginning. The mid-distant future get's truly weird. Implantable tech will have us feeling, tasting and even seeing things that aren't really there. Screens will seems old-fashioned when media is displayed directly on the optical cortex. A scary vision of the future? Nope, it's all available right now. In this session, Dino will take you through some of the most eye opening, head scratching and downright weird advances in technology that will be coming to an ad screen in the not-too-distant future. Bring a foil hat, you may need it.
11:10 Coffee
11:30 Privacy Issues in the Digital Space | Nick Graham | Dentons
Rapid advances in digital advertising and mobile computing are; (a) opening doors for the DOOH industry to connect with consumers in new and engaging ways AND (b) allowing all sorts of data to be kept and stored. New technologies however are often closely followed by privacy and security backlash as both startups and more established companies explore the border between innovation and privacy. In this session, we will look at data, privacy and security lessons from online and mobile that balance that innovation and consumer privacy.
12:00 Richard Corbett | Founder and CEO | Eyetease in conversation with Chair Adrian J Cotterill
12:30 TfL's bold approach to OOH in the increasing Digital age | John Pizzamiglio | Lead for Advertising Strategy Commercial Development Directorate | Transport for London
John Pizzamiglio joined Transport for London in 2012 with a remit to maximise the advertising revenue that TfL will be able to achieve in a new more commercially astute organisation. The past three and a half years have been spent doing just that, with all of the major advertising contracts being re-assessed, re-aligned and awarded. Although the future funding of the organisation remains incredibly challenging, advertising remains massively important to the network. In fact increasingly so. What the future will bring is still up for debate – but John is confident that the quantum leap in TfL's thinking in recent years has put them in the best place possible for taking advantage of whatever challenges and opportunities arise.
13.00 LUNCH
14:00 365 Days of Wonder | Alan Brydon | CEO | Outsmart
Precisely one year ago, on only the second day of my new role, I attended the 2015 DailyDOOH Media Summit. It was a very valuable day for me, and straight away gave a lot of food for thought. In the 365 days since, a very great deal has happened to the company I joined, and a great deal more has happened across the industry as a whole. This session will look back at how Outsmart developed, what it has been doing since launch, and what some of its priorities for the future, near and longer term, are. (Some of which has been in part driven precisely by observations made during the 2015 Summit). Observations and thoughts will also be offered on some broader aspects of the industry that whilst not in the specific remit of, or under the control of, Outsmart, could nevertheless help to drive increased revenues into the medium if addressed.
14:30 Connected Cities, Citizens and Brands | Dave Etherington | Chief Strategy Officer | Intersection
What will the future of urban landscapes and citizen engagement look like? As more people than ever before flock to live in cities, what role will brands play in facilitating more fair and connected environments to live in, and how will this impact the state of advertising within physical spaces?
15:00 Dynamic by default | Alex Matthews | JCDecaux Dynamic
In a world where every screen is connected to the internet and everyone is used to intelligent notifications and messaging that know what you are up to and what you might be doing next it's very surprising to see so much digital out of home advertising that is static and context-less. We are going to change this …

15.30 TEA/COFFEE
15:45 Why Digital Out of Home Should Focus on What Counts | Sarah Parkes | Group Managing Director | DigiCom and Airport Media
Digital Out of Home offers the opportunity to deliver targeted campaigns. Brands can now communicate with specific audiences at specific times and places but what are the tangible benefits of this for those brands? Our belief is Digital Out of Home should focus on what counts for clients. Harnessing the power of this flexibility will help the medium deliver more clearly against business objectives. We will talk about how this can be done and some of the specific benefits it will bring.
16:15 You won't believe what happens next… | Phil Lenger | Founder and CEO | Show+Tell
Surprises live around every corner. Markets pivot. Fads die. Doors open. Audiences are becoming increasingly fickle, harder to reach and harder to entertain. While owner/operators are scrambling to position themselves to be successful in the upcoming DOOH boom – there are more questions than answers when it comes to best practices in display strategy and audience acquisition. Surprisingly, the answers may be simpler than you can imagine. Hear the extraordinary prediction of an upcoming major market shift that threatens to devalue many DOOH media networks. Avoid becoming yesterday's forgotten fad. Learn the surprising source of the 200 year old lessons that will help you future-proof your network investment, help you think out of the box, and build tremendous value to your media business. You may just be surprised.
17.00 Closing Remarks | Adrian J Cotterill | Editor-in-Chief | DailyDOOH
17:15 Peter J Solomon Company Cocktails
19:00 Close
Tickets cost from GBP 345 each. Registration is available here.
London Digital Signage Week takes place May 16-20, 2016 and like its counterpart in New York, the week includes events for retail, employee communications, digital out of home and of course digital signage.