An Australian public appeal to help eradicate the high incidences of suicide of returning service men and women who suffer from Post-Traumatic Stress Disorder (PTSD), was launched this week by veteran support group Walking Wounded.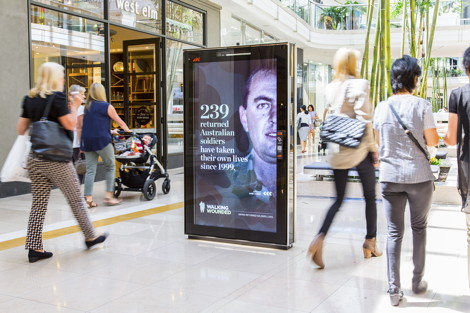 The fundraising appeal – supported by technology that enables Outdoor advertising screens to collect donations – will support teams to help returned veterans overcome trauma suffered from their service and re-integrate with society.
At the launch, CEO and Founder of Walking Wounded Brian Freeman said the level of suicide, incarceration, family break-ups and homelessness among soldiers as a result of what they witnessed while at war was tragic and needed to be addressed.
"It is terribly sad to think that while 46 good men have died fighting for Australia in active service since 1999, more than 239 have taken their own life since returning home. This should not happen at all, but unfortunately these men and women generally do not seek help – it's not in their nature.
"The only way we can address this serious problem and cut the significant rate of suicide, is for us to be out in the community, engaging with these wonderful people and getting them the help they need.
"But this does need funds and resources and that is why Walking Wounded is appealing to the Australian community to donate via this national campaign."
In support of the fundraising appeal Out of Home media company, oOh!media, has activated its national network of interactive retail screens with Tap Payment technology to accept donations for Walking Wounded.
The technology, in oOh!'s EXCITE screens located in major shopping centres throughout Australia, will allow Australians to make a $1.99 donation to the charity with a tap of their card .
oOh! Chief Executive, Brendon Cook said the addition of Tap Payment was an exciting evolution that will raise much need funds for Walking Wounded.
"This is the first time that Out Of Home has facilitated a national campaign of financial transactions via Tap Payment technology built into an advertising panel. This technology has opened up a whole new range of possibilities for Out Of Home advertising".
The Walking Wounded fundraising campaign follows on from creative agency BCM Partnership's awareness campaign that has been running across oOh!'s road, retail, airport, café, venue, sport and online assets and featuring stories of Australian soldiers who took their own lives.
Mr Freeman said the initial awareness campaign for Walking Wounded had resulted in 11 returned veterans and 50 families reaching out for help and offers of support pouring in from thousands of Australians.
"We hope the level of engagement we have seen since starting our awareness campaign will translate into raising enough money to fund mobile support teams, consisting of older and experienced veterans in every state and territory, who will provide help for contemporary veterans returning from war.
"Last year, Walking Wounded travelled from the tip of the Cape York Peninsula to Tasmania, holding 100 briefings in 89 towns and cities informing service men and women on the intervention support and mental health services we can provide.
"We want to give these men and women a lifeline of help and stop further suicides of these valuable Australians."
The Tap Payment EXCITE retail panels are located in major shopping centres across Australia including Chatswood Chase (NSW), Indooroopilly (QLD), Chadstone (VIC), Myer Centre (SA) and Garden City Booragoon.
oOh!'s relationship with Walking Wounded emerged from its Million Dollar Pitch competition held in 2015. BCM Partnership partnered with Walking Wounded in a submission that won the prize of $1 million worth of Out Of Home advertising space from oOh!.