Gail Chiasson, North American Editor
Branded Cities Network's new digital board at the Lincoln Tunnel in New York is now fully up and operational.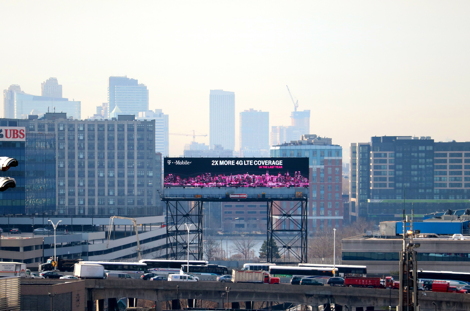 Everyday, over 100,000 vehicles drive through the Lincoln Tunnel, the only major river-crossing linking Midtown Manhattan to New Jersey. Branded Cities Network's newest digital spectacular lies centred on the Lincoln Tunnel Helix to both eastbound and westbound traffic.
Measuring 20' high by 100' long, the digital board is the largest digital display in the area. Prior to its conversion, the Lincoln Tunnel was the highest rated single board in the entire DMA, generating over 1.5 million impressions on a weekly basis. Preliminary impression data from the TAB shows that this trend will continue and be the highest rated digital board located at the Lincoln Tunnel.
Running 24/7, Branded Cities Network's Lincoln Tunnel Digital Board is loop based, providing eight, eight-second spots. An advertiser will receive over 35,000 spots over four weeks. Brands advertising recently on the Lincoln Tunnel Digital Board include: T-Mobile, Disney, Yes Network and MT&T Bank.