Gail Chiasson, North American Editor
Smyrna, Georgia-based TNG Retail Solutions has partnered with Montreal-based Impax Media, which offers a network of place-based digital video displays in U.S. and Canadian grocery stores.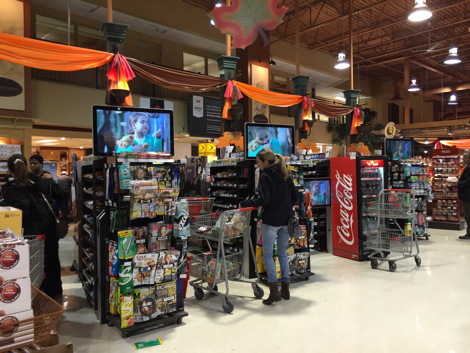 TNG is part of the Jim Pattison Group, one of the largest privately held companies in Canada. A key player in the supply chain industry, TNG provides a full range of retail services in logistics, merchandising, category management, beverage, snack, and general merchandise management and retail display services including end-to-end checkout management. TNG is also the largest periodical wholesaler in North America, with operations across the US, including Hawaii and Puerto Rico, and in Canada.
Impax Media is a fast growing, leading edge technology organization delivering digital video content on high definition screens at grocery checkouts. Impax Media helps the retailer connect with its customers by providing retailer-branded healthy eating tips, recipe ideas and the hottest sale items where the customer is extremely receptive to entertaining and useful content. The screens also offer advertising that provides the retailer with a new revenue opportunity while advertisers can promote their products and brands at the point-of-purchase to the highly engaged customers. Impax display units also have an integrated lane gate providing an effective checkout security tool.

TNG will be installing and maintaining our screens at all retail locations in the U.S. and Canada," says Bill Ketcham, executive vice-president, chief marketing officer, Impax Media. "They will also introduce us to retail clients, as well as advertisers of products normally displayed in checkout lanes. Their scale will allow us to build out the network quickly, and insure excellent quality control."
TNG will provide logistics, installation and maintenance service for the Impax program nationwide, monitoring the network at every retail location each week.
"Partnering with Impax Media will align both of our organizations to streamline innovation to our valued retailers and CPG customers alike," says Jim Deighan, senior vice-president of business development for TNG. "It will allow us to deliver new opportunities in a very creative and scalable model across the country."
"Impax has a management team with tremendous experience building digital place-based networks in the retail environment, creating powerful digital content and generating strong advertising sales," says Dominick Porco, chairman and CEO of Impax. "Combining our strengths will allow TNG and Impax to offer a single source solution for a higher level of customer engagement for retailers."

Impax will continue to contract the units to various grocery chains as well as handle the advertising sales. Its screens will be on display at the TNG booth during the Food Marketing Institute (FMI Connect) event in Chicago's McCormick Place June 20-23, 2016.
The Jim Pattison Group is made up of a number of strong and diverse operating divisions, which span the automotive, advertising, media, agricultural equipment, food and beverage, entertainment, exporting, financial, real estate, and periodical distribution industries.