Gail Chiasson, North American Editor
It's interesting to see how the screens in cars that are becoming to look more and more like basic digital signage, and that seems more the case as screens get a little larger and additional 'products' are added.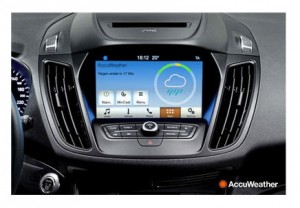 The new 'product' on Ford's new SYNC 3 in-car communications and entertainment system, initially available in Ford's Mondeo, S-MAX, and Galaxy models, is from AccuWeather, global leader in weather information and active in digital signage.
AccuWeather's patented MinuteCast minute-by-minute precipitation forecasts are now available to drivers via AppLink on the Ford screens.
MinuteCast provides exclusive minute-by-minute precipitation forecasts with Superior Accuracy, including hyper-local information on precipitation type, intensity, and duration using exact street addresses or GPS locations, keeping people informed and safe on the go.
AccuWeather's award-winning iOS App seamlessly syncs with Ford vehicles through Ford's in-car, voice-activated AppLink technology. With the push of a button, AppLink allows users to simply speak to request their local weather information and it is instantly displayed on the car's smartphone-like touchscreen in the language of the country where they live, now available in France, Germany, Italy, Spain, and the UK.
Through SYNC 3 and AppLink, AccuWeather also provides access to detailed weather information including severe weather alerts, daily forecasts with high and low temperatures, and local summary forecasts so that travelers know what to expect in the next three-to-five days to plan ahead.