According to a new report on the Walking Wounded campaign by oOh!media, Out Of Home has evolved beyond large format billboards for brand visibility into a multi-channel medium that builds awareness, drives engagement and inspires action.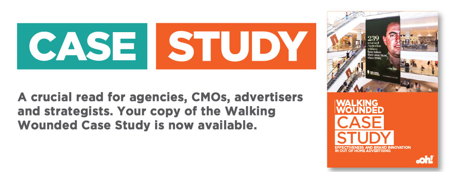 Walking Wounded, an Australian charity that supports returning veterans suffering post-traumatic stress disorder (PTSD), was the beneficiary of an Out Of Home campaign that creative agency BCM won through oOh!'s Million Dollar Pitch initiative. The initiative aimed to illustrate how the sector has evolved into a powerful medium in an age of medium fragmentation.
The Walking Wounded Case Study (Effectiveness and Brand Innovation in Out Of Home Advertising) released this week says the Out Of Home campaign for Walking Wounded reached almost 86% of Australians in its first three weeks.
It shows that at least half who recalled the campaign took action.
The report* also reveals that as a result of the Out Of Home campaign: –
Brand awareness of Walking Wounded almost doubled from 15-29%;
30% recalled the advertising, with recall increasing to 49% in the retail environment;
One in four spoke to friends and family about the issue of PTSD as a result of seeing the advertising;
Monthly online search volumes increased six-fold;
More than 20,000 social brand engagements occurred during the campaign;
Three in five who recalled the advertising said that they are likely to donate to Walking Wounded in the future.
According to BCM Managing Director Paul Cornwell the most important outcome of the campaign was that it fulfilled its purpose, which was "To save Australian soldiers from suicide."
He added "The challenge was to stand out amongst thousands of charities and cut-through donor fatigue. Taking shocking facts and confronting the audience with them proved to be a powerful strategy. oOh!'s diverse, dynamic and increasingly digital assets allowed us to not only convey a key message but also tell a story. With a great deal of planning, we aligned messages and creative to different channels and utilised oOh!'s technology to take our audience on a journey, which was informed by a single objective".
He continued "As a result of the campaign, two in three are now aware of suicide as a key issue affecting returned soldiers, an increase of 35% pre campaign. We also had more than 200 people volunteer to help. Fifteen returned veterans reached out to Walking Wounded, and 51 families contacted Walking Wounded for help."
"Who would have thought that an outdoor campaign could save lives?".
CEO of oOh! Brendon Cook told us "The campaign, which drew on our insights and innovation across our audience environments, forced a serious issue into the national headlines and drove a measurable response among everyday Australians through multi-channel integration and contextual relevance, using both our classic and dynamic inventory.4
"While once Out Of Home was seen as the domain for big brand presence and broadcasting a single message, it is now a new media that is driving more targeted engagement and driving offline and online engagement between brands and their audiences."
The Walking Wounded Case Study is available here.
* The campaign result findings are based on a combination of MOVE Out Of Home industry data, face to face and online pre- and post-brand tracking conducted by brand insight agency Brandhook and operational reporting from Walking Wounded.