Churchill Motor Insurance will launch its latest 'Uninsured Drivers' brand activation, with what many believe may be the world's first interactive digital out of home insurance campaign.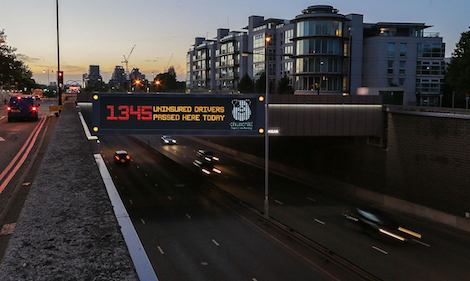 Scarily, it is estimated that more than one million of UK drivers do not have car insurance; a problem that can cost honest motorists dearly.
Churchill Insurance's latest campaign, created in partnership with WCRS and Ocean Outdoor, aims to reinforce Churchill's 'depend on the dog' brand message, by making people realise that if insured with Churchill – and the collision with an uninsured driver isn't their fault, its comprehensive car insurance protects their claim free years, Churchill will repair their car and they'll even cover their excess too.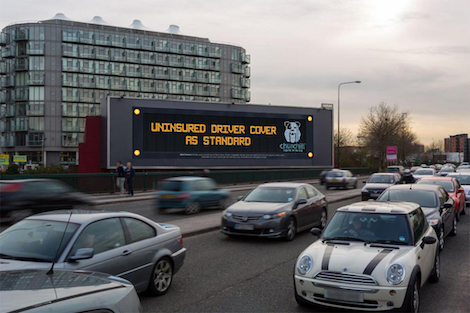 The digital billboards, located at four uninsured driver hotspots across the UK in the city centres of Manchester, Leeds, London and Birmingham, will alert people to the number of uninsured drivers that have driven past each screen that day!
Lucy Brooksbank, Head of Marketing, Churchill said: "At Churchill we want people's best interests to be at the heart of everything we do and it was important that the campaign reflected this. It's a great campaign that's proactive and progressive within the insurance sector. However, more importantly it reminds people that Churchill's got them covered for everyday disasters, including the danger of being hit by an uninsured driver."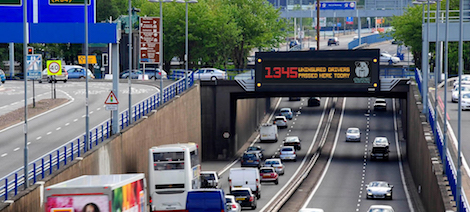 Using data from the Motor Insurance Database and innovative camera-recognition technology, the counter on the screens will go up in real-time, dynamically registering passing vehicles and display how many cars that have passed the precise location are likely to be uninsured.
Dino Burbidge, Director of Technology and Innovation, WCRS told us "The campaign seems pretty simple at first glance but reliably counting cars while not accessing or storing any personal data has been a challenge. Bespoke cameras were installed by Ocean Outdoor and custom car counting algorithms have been written for each location. Together with data from the Motor Insurance Bureau, the number of uninsured drivers is calculated and displayed in real time. The result is an innovative use of roadside DOOH and a great example of the classic marketing mantra of right message, right person, right time."
You can read what Dino Burbidge thinks is 'What's Next?' here and WATCH his presentation from The DailyDOOH Media Summit in full here.
The DOOH campaign went live on July 4, 2016 and will run for one month.
Full credits:
Client: Churchill Insurance
Agency: WCRS
Creative Director: Orlando Warner
Creatives: Jason Keet, James Hodson
Account Handling: Emma Marsland, Carolina Gutierrez-Vargas, Alex Gluck, Katie Briefel
Planning: Elisa Edmonds, Alicia Gaworska
Digital Strategy: Duncan McLauchlan and David Blackett
Technical Director: Dino Burbidge
Creative technology: Gon Fernandez
Project Management: Nick Cruttenden
Media Partner: Ocean Outdoor
Head of Ocean Labs: Catherine Morgan
Hardware Integration: James Game
Media Agency: Mediacom