Gail Chiasson, North American Editor
This month we welcome Barclay Nettlefold, Group CEO, QMS Media, Melbourne, Australia.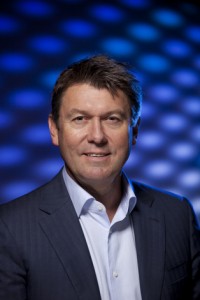 Please tell us about your background and how you got into digital out of home.

Outdoor advertising is in my blood. My father, David Nettlefold, pioneered the outdoor advertising industry in Australasia. Since those formative days under my father, I have gone on to found several outdoor media companies in both Australia and overseas with brands such as NLD, Eye Corp, News Outdoor Group and most recently QMS Media.

Can you tell us the history of QMS? There seems to be QMS, Omnigraphics, MMT, iSite, ABsee and maybe more. Which one is the basis for the company and how and when did the other become part of the company?

What is recognized today as QMS Media (QMS) was borne from a vision of establishing a strategic outdoor advertising media business across Australasia. I formed a joint venture with Qatar Media Services in 2010, which led to the acquisition and aggregation of several outdoor media and related companies to establish a footprint across Australia, New Zealand and Indonesia in 2012.

Since then, the company has experienced significant growth both organically and through acquisition. The progression of the growth morphed into the listing of QMS Media Ltd. in June, 2015, on the Australian Stock Exchange where the capital raised was used to fund the acquisition of various complementary assets, fund the development of new digital assets and enable the Qatar Media Services shareholding to divest.

QMS is positioned as the fastest growing Out-of-Home media company in Australia. You certainly had a great six months to Dec, 31, 2015 with revenue up 50% over the same period a year earlier, to $44.4 million. To what do you attribute that?

Our strong performance in the first half demonstrates the momentum in the business, and the significant uplift that we are seeing from the rollout of our large format landmark digital pipeline. The success of our digital rollout was a key driver of our strong performance in the half. We had 29 landmark digital billboards in Australia at the end of December 31, 2015, which was ahead of our targets. Digital contributed almost 40% of total media revenue, and we expect this continue to grow as advertisers continue to recognize the superior flexibility and engagement offered by the digital medium.

Now the next six months are up. How did that go?

We delivered a number of new landmark digital billboards in high-profile locations across Australia and New Zealand to reach 48 iconic digitals at present, as well as rolling out 50 digital street furniture panels as part of our exclusive street furniture contract on the Gold Coast.

We completed the successful integration of iSite, a leading outdoor business in New Zealand, with the existing QMS business, and re-launched it to the market as QMS NZ. Our combined NZ business offers a compelling outdoor media proposition across a number of formats, including landmark digital, static, retail and transit allowing us to provide advertisers with intelligent outdoor media solutions to reach consumers at every stage of their journey. We will announce the full details of our fiscal 2016 performance to the market in the coming weeks.

You are a public company. Since when? What has going public done for the company?

We have now been listed on the ASX for just over 12 months. The IPO enabled us to bring together a strong portfolio of premium outdoor media assets, and provided additional capital to support our digital development strategy.

Being a listed company also has other advantages, including access to capital to support our growth agenda. We recently completed an A$50 million entitlement offer to support the acquisition of iSite, which, as I said earlier, has delivered us a leading market position and transformed QMS's presence in the New Zealand market.

Is airport media your newest offering? I notice that you provide OOH/DOOH in at least two Airports. What part of your overall business is this?

We currently operate airport concessions in Indonesia and New Zealand, enabling us to provide clients and advertisers with an attractive presence in busy transit hubs, which, as we all know, typically have a captive audience with very long dwell times! Our Indonesian business (INsite Air Media), delivers outdoor media solutions in three of the four largest airports in Indonesia: Ngurah Rai International Airport in Bali; Soekarno-Hatta International Airport in Jakarta; and Kualanamu Airport in Medan.

We recently completed the rollout of Indonesia's first airport digital network, through the launch of our world class digital platform throughout both the Domestic and International terminals in Bali. The digital platform encompasses portrait digitals, landscape baggage carousels and state-of-the-art video walls.

In New Zealand, we provide advertisers with the opportunity to connect with the large volumes of domestic and international travellers that move through both Wellington and Queenstown Airports each year.

You have started using Daktronics for all your large format digital screens. What does it offer you? And what do you use for your street furniture, transit, retail and airport locales?

Daktronics are a preferred strategic partner for QMS. Daktronics offer a premier product, quality service and support, and a range of product offerings that work across our development portfolio.

In general terms, we have taken a best-in-breed approach to selecting technology to be fit for purpose across each of our various development platforms. A good example of this is our small format digital development where we have sourced open frame and key componentry from mainstream manufactures to assemble a high quality premium product which is designed for the specific environment.

Your website mentions the Gold Coast, Tasmania, etc.. Please tell us about the various areas of Australia and what type media you offer in each. And in New Zealand and Indonesia? How many actual advertising faces do you offer in total?

We currently deliver coverage throughout Australia's five capital cities with a focus on premium large format digital and static billboards. Our sites are positioned in long dwell time, high traffic locations as well as major traffic arterials and key suburban precincts. Our landmark digital billboards are some of the most sought after in the country and we currently have 48 iconic digitals throughout Australia and New Zealand and growing.

The Gold Coast region is also a particular focus for us through our exclusive street furniture contract in conjunction with key landmark digital billboards, providing domination of this highly sought after market. We currently have more than 700 street furniture panels throughout the Gold Coast, both digital and static, and as the home to the 2018 Commonwealth Games, this market is in more demand from advertisers than ever.

In New Zealand, we operate one of the leading outdoor media companies in the country, with a significant scale of offering and audience reach. Our portfolio extends across a vast range of formats from landmark digital and static billboards, to airports, retail, transit (buses, rail, ferries) as well as experiential and ambient media opportunities.

In Indonesia, the focus is on our airport media portfolio across three of the four largest airports in the region – Bali, Jakarta and Medan. We also operate a significant large format billboard portfolio, including major bridges, throughout Jakarta and other major cities across Indonesia.

Whose Content Management Software do you use for each of your media networks and why?

QMS has chosen to use BroadSign as the content management software across all of our networks internationally. BroadSign is recognised as the world leader in digital content management particularly in the OOH space. The platform is mature and well tested as well as being well supported 24/7.

Using a common platform allows operators from any office to log in and control content in any location. This means that there can be unlimited knowledge sharing across all our offices as well as remote technical support. By building a robust and common infrastructure, there is no reason that a technician in Australia cannot log in remotely from his office or even mobile phone to load content or assist in fault diagnosis in Bali Airport, for example.

The beauty of digital advertising is that a geographic location becomes irrelevant. When pushing the boundaries of dynamic content. there is no reason that a specialized third party supplier cannot be commissioned to work on campaigns in any country where QMS operates. It is a core value of QMS to be at the very pinnacle of digital advertising development and the growth of an international knowledge base founded on skilled staff and a free flow of communication is critical in making this a reality.

I see that you use a measurement system entitled MOVE (Measurement of Outdoor Visibility and Exposure) that I believe the entire Australian OOH/DOOH uses. How long have you been using it? Can you explain it a bit? And does QMS use any other measurement as well?

MOVE is Australia's OOH Audience Measurement System, launched in 2010. MOVE is the only OOH Audience Measurement System in Australia that is endorsed by the Outdoor Media Association (OMA), the Media Federation of Australia and the Australian Association of National Advertisers, and as such is the official industry wide currency.

MOVE measures over 73,800 advertising faces, including roadside billboards, posters, street furniture, railway stations, buses, trains, trams, shopping centres and airports in Adelaide, Brisbane, Melbourne, Perth and Sydney. It involves the audience measurement currency known as LTS (Likelihood To See), which means that consumers that had minimal probability of seeing the message are excluded from the measurement results. Each advertising face is given an audience score that can be run across a range of 112 different demographics and then combined to deliver a multi-site/format reach & frequency result.

This is currently the major measurement system used by QMS. However, there is a lot of work being done internally to develop complimentary audience data/measurement systems.

Recently the Australian industry also called for an RFP to have a company develop the OOH industry's first Automatic Transaction Platform. I believe eight companies have been shortlisted for that. How do you think the ATP will help QMS?

The ATP project is being managed by the OMA and is still in a very early development phase. QMS welcomes all industry wide innovation projects to aid in our collective objective of increasing revenue into the OOH sector, and will be involved in the development of the ATP as the project evolves from the RFP stage.

How soon do you expect that Phase one will be available? And how soon do you expect to see a rollout to automatic trading and programmatic?

As mentioned, the ATP is still in its initial development/RFP phase, with all project timings still to be confirmed. At present, the Australian market is not ready for automatic trading and programmatic, so we expect these functions will not be available for a while.

Tell us your views on programmatic buying for the OOH and DOOH industry.

We expect programmatic buying to play a big part in the future outlook of the DOOH industry. However, we believe that a more pressing priority for the industry is the development and delivery of a real-time audience measurement system.

What role, if any, does mobile play in QMS's offering? Can you give us an example?

Mobile plays an important role in our through-the-line client service offering. The connectivity between mobile and digital billboards allows clients to amplify social media/mobile advertising campaigns, deliver targeted consumer messaging and offers, as well as delivering a further layer of accountability.

An example can be seen in our Twitter Feed Case Study for the recent Star Wars movie, in which consumers were asked to vote for either the lightside or darkside via Twitter, with the results shown live across our landmark digital billboard network.

Please tell us about QMS's growth strategy over the next two years.

Our strategy is to build a platform of premium quality outdoor media assets, underpinned by our digital development strategy, and complemented by strong market coverage in key geographic areas. Our digital development strategy is progressing very well and has strong momentum. We plan to significantly increase the number of landmark digital billboards this financial year with the installation of a several new premium landmark digital sites in Australia and New Zealand.

We are equally focused on building our market coverage in strategically attractive markets.

In New Zealand, as I mentioned, we completed the acquisition of iSite in December, 2015. This provides us with a leading presence in the New Zealand outdoor market and presents a number of exciting opportunities for us to deliver fantastic products for clients and advertisers across a number of outdoor formats, including landmark digital, static, retail and transit.

In Indonesia, we completed the upgrade of our outdoor assets across Bali's Domestic and International terminals, with over 70 new digital screens and lightboxes installed, providing a premium visual experience throughout both terminals.

More broadly, we will continue to work hard to get the most value out of our existing concessions and to secure new contracts in all of our markets – that's always an important focus. We will also continue to consider other organic growth and acquisition opportunities where they align with our strategic objectives.

Would you like QMS to expand geographically beyond where it is? To where next, if so?

We are currently focused on enhancing our existing platform in Australia, New Zealand and Indonesia. We take a considered approach to geographical expansion, and while we won't rule anything out, our current focus is on making the most of the many growth opportunities available to us in our existing markets.

What do your think will be the next 'big thing' for OOH/DOOH?

The next big thing in our minds is data capture through new technologies, with the aim of providing more targeted and relevant communication opportunities for our clients.

Is QMS a member of the Australian Out-of-Home Association? Why (or why not)?

QMS is a proud member of the OMA, and I am currently a Board Director of the association, with a number of our staff sitting on the various OMA industry committees. The OMA exists to not only promote the benefits of the industry but to also ensure positive relationships with all key stakeholders and government bodies.