Officially opening its retail doors for the first time on August 16, 2016, Westfield World Trade Center is likely to rewrite many of the traditional rules of retail shopping centers by introducing superb cross-platform brand marketing opportunities along with sponsorships by three key premier partners.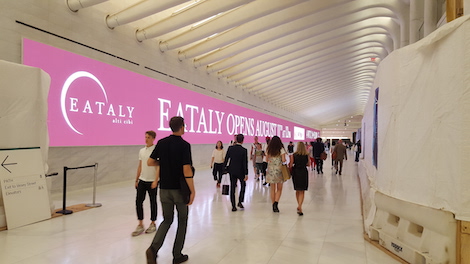 Once upon a time, shopping centers generated income virtually entirely from the rent paid by tenants representing traditional retail categories— apparel, lifestyle, home and beauty, technology, and food. For Westfield, that business model is clearly evolving into one that is more nuanced, more nimble, more digitally savvy, and clearly, more cognizant of the potential afforded by corporate sponsorships.
For that reason, at its World Trade Center location, Westfield is not only opening shops for leading retail brands such as Apple, H&M, Hugo Boss, Kate Spade and Sephora — but is now offering category-exclusive sponsorships for some of the world's most influential consumer, financial services, and automotive brands — including Pepsi Co., JPMorgan Chase & Co., and Ford Motor Company.
Under the direction of Westfield's Brand Ventures division, the company's 'Premier Partnerships' at World Trade Center include multi-year product and vending rights, high-profile event hosting, brand showrooms, as well as digital out-of-home advertising exclusivity throughout the site's state-of-the-art media network.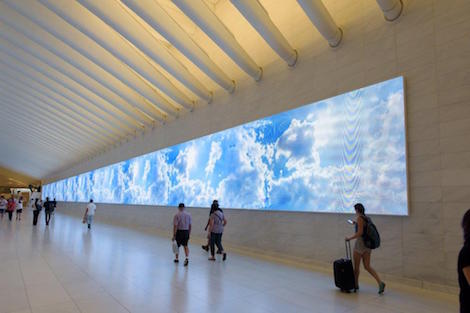 The New Port of Entry to Lower Manhattan
Encompassing 365,000 square feet of retail space, Westfield World Trade Center's variety of more than 100 global and local fashion, beauty, lifestyle, and technology brands showcase the very best New York has to offer — all in one place. From luxury and high-end concepts to trendsetting designers and everyday essentials, this shopping experience is designed to offer something great for everyone.
This is not only home to one of the most diverse retail collections in New York, but is also the new port of entry to Lower Manhattan. There are actually few places as "connected" as Westfield World Trade Center — located where 60,000 neighborhood residents, 300,000 daily commuters, 13 subway/PATH trains, multiple ferry lines, and an additional 15 million annual global travelers converge within a setting unlike any other in the world.
One of the most easily accessible destinations in New York City, Westfield World Trade Center is expected to generate nearly 285 million annual impressions, comprised of global and local key influencers, international and domestic tourists. In fact, every single day, Westfield World Trade Center will deliver more than twice the audience of the three largest New York metro area stadiums combined.
Charley Delana, Westfield's Executive Vice President of Brand Ventures told us "Our Brand Ventures marketing opportunities at Westfield World Trade Center will enhance the visitor environment by delivering powerful consumer experiences in a breathtaking setting. Whether through customized creative campaigns displayed on larger-than-life digital screens or exciting activation events, these brands will further Westfield's ability to serve as a cultural epicenter of Lower Manhattan and create transformative experiences for the vast audience of professionals, tourists, and residents who will visit the retail district each day."
Events and Entertainment
Westfield's partners and other brands are also able to take advantage of Westfield World Trade Center's three distinct event spaces located indoors within the majestic Oculus and outdoors at the Oculus Plaza and along Cortlandt Way. In each space individually or together in combination, sponsors and partners are able to launch new product lines, create unique pop-experiences, host curated cultural and community events, entertainment and programming. Exclusive sponsorships of World Trade Center's fashion, music, food, and holiday experiences are also available.
Global Showrooms
There is perhaps no better example how Westfield can drive brand awareness through a 360° holistic experience than the new prototype FordHub opening at World Trade Center. For Ford, this futuristic 2,500 square foot showroom provides an opportunity to create a no-pressure space where consumers feel comfortable to immerse themselves in the Ford brand, learn all about the new "Ford Pass" app, and discover the myriad of new digital, mobile, and loyalty programs the company is introducing worldwide.
The Westfield Digital Media Network
Across Westfield World Trade Center are 19 digital screens, in a range of sizes including one that is four-stories high and another that is more that is more than 280 feet long. The screens allow for a wide range of custom messaging including live streaming, and can be run concurrently or individually. Technology and maintenance of the screens is provided by ANC, a Learfield Company.
The LED is from one of their partners from China. The software is ANC's proprietary vCOMM platform – specifically developed specifically for the retail, transportation and commercial markets, utilizing many of the features from their live event platform, such as precise frame synch across multiple servers, driving 'greater-than-HD' displays without scaling content, automated failover, etc.
The long 4mm LED display in the West Gallery (top photo) is approximately 10 feet high and more than 280 feet long with more than 15 million pixels.
Also (not shown), as consumers cross underneath the 9A Underpass, they will experience four separate LED displays totaling more than 800 square feet and 3.9 million pixels. Traveling through the complex and the Oculus, there are 12 displays spread across two levels in Tower 4. Consumers will also experience a 70 foot transparent LED display encasing Tower 4's lobby glass elevator.
We're looking forward to seeing this during New York Digital Signage Week (Oct 24-28, 2016)