Adrian J Cotterill, Editor-in-Chief
With a mission to support agricultural communities in India, Vodafone and Kinetic Worldwide announced this week the launch of 'Recharge With Rainwater', a unique rainwater harvesting and distribution service that leverages a smart, scalable out-of-home ecosystem.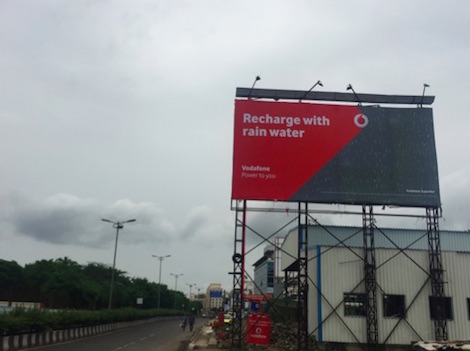 Created by Kinetic, Vodafone's out-of-home ecosystem has been specifically designed to capture and store rainwater at scale, to then distribute the conserved water across India's driest and less irrigated places such as Maharashtra where the drought has caused a dramatic increase of farmer suicides. The suicide rate among Indian farmers is 47% higher than the national average, with forty-one farmers committing suicide every day.
Mauricio Sabogal, Global CEO of Kinetic Worldwide told us "With over 600 million people in India depending on agriculture for their living, following two successive dry years, water scarcity is one of the most serious threats the country is facing today. Kinetic responded to the call of Vodafone to make India a more sustainable commonplace and to improve the lives of local communities."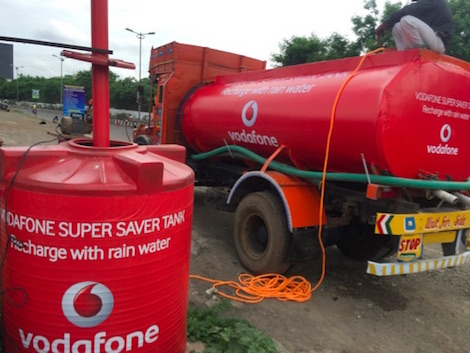 Launched during this year's Monsoon, the out-of-home ecosystem consists of a network of Vodafone billboards harvesting rainwater in tanks at key highway locations, as well as a 24/7 operating vehicle system distributing the conserved water to nearby farming communities. Rainwater is harvested using the billboards, by creating a U-curved aluminum sheet as a rainwater collection funnel on top of the billboards. This funnel is then channeled through a tube to a big tank installed at the bottom of each hoarding, which stores the collected rainwater. In order to keep a check on the water level in the tank, each tank has been installed with a unique Vodafone sim card based water sensor technology. Once the tanks are full, an SMS and map is automatically sent out to the administration. The water collected in the tanks are then transferred to water tankers and taken to the farmers, which directly water irrigation fields from the tankers.
Ashish Chandra, Business Head, Vodafone India said "The state of Maharashtra has been dealing with dramatic water shortage for years. Every single drop of water counts. Rainwater, if harvested properly can meet a large part of what local agricultural communities need. At Vodafone India, we believe environmental sustainability is priority for growth, and we're excited to launch such an innovative initiative in partnership with Kinetic."
Sommnath Sengupta, Creative Director at Kinetic India added "Nearly two-thirds of land under cultivation has no irrigation and so relies on rain in India. Recharge With Water is a simple, yet contextually relevant concept that has impacted, and can impact even more communities," said "Kinetic's technology and location expertise, combined with our passion for product design, is poised to help more innovative brands make a difference".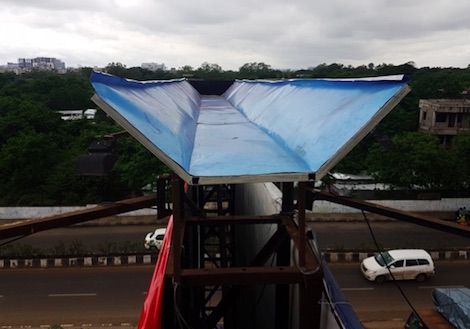 To date, five such innovative rainwater-harvesting billboards have been installed in Pune at the New Airport Road. With the five billboards, there are five tanks attached each with a capacity of 2,000 liters. Vodafone collected and donated more than 20,000 liters of water to the farmers of Wadebolai Village in Maharashtra since July 21st, 2016.