Gail Chiasson, North American Editor
This month we welcome Jordi Alba, CEO, iWall in Shop, Barcelona, Spain,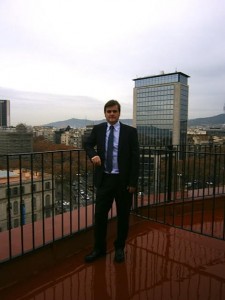 Please tell us your background and how you got into Out-of- Home.

First of all, I got a Diploma on audiovisuals, and also in international Marketing and Digital advertising at ESIC Business and Marketing School, and then a Masters in general management at IESE Business School, all in Barcelona.

My first steps in digital signage were by collaborating with Hewlett Packard in 1996 when digital printing was rocketing. We made a business plan for the following 10 years and we visualized the growth of flat screens remotely controlled by the Internet.

iWall in Shop is in shopping centers across Spain – and why in Peru? Please tell us the company's history. Who owns it?

iWall in Shop started in 2009 to empower de TV campaigns at the last minute, at the 'last mile', just before purchase time. We now reach 50 shopping centers in Spain, and we started operations in Perú in 2013 because of the growth of the Andean Area, and also because it was a virgin territory in terms of digital screens.

iWall in shop was founded by myself and with the support of family offices from Madrid and Barcelona.

From what I've read, you were planning to expand beyond Peru to other South American countries. Have you done so? If so, where? Are you looking for investment?

Yes, we are planning to expand along Andean countries but we use our profits to grow the business, so for the moment we don't need external investment.

You are in at least 50 shopping centres in Spain and 10 in Peru. The two countries have a common language, but what are some of the differences between them in terms of consumer behavior when it comes to engagement with DOOH?

The main differences are in the use of the shopping centers in LATAM (ie. American countries where the Romance languages dominate). People run their way of life around the malls mainly for safety and to 'have more at a glance'. It's all has to do with aspirational wishes.

Beyond shopping mall corridors and food courts, you also do external signs. Are they only at mall entrances, or where?

Not really. We did some installations, but it is not our core business.

What are the different sizes and shapes of your iWalls and Mini iWalls, and where is each size most used?

We mostly use 65" for ads and 55" for touch screens.

In Spain, interactivity of all sorts is offered on your DOOH and is apparently very popular. You offer augmented reality, gesture-based, aroma, touch screens and more. Can you tell us about a couple of campaigns that used, eg., aroma and touch?

We run a lot of campaigns for Carolina Herrera, CK, Paco Rabanne for aroma; and kinder, Nestle, Vueling for interactive; and augmented reality campaigns for all kind of films like Captain America, Frozen and other films.

What is iShapp? Can you give us an example of how it's used?

iShapp aims to be a smart app to connect mall consumers with retailers.

Is the Spanish consumer a heavy user of social media? Do you run many campaigns linking social, mobile and DOOH? Can you give us a recent example?

We ran Vueling and Fanta campaigns whereby users uploaded pictures to the landing page of advertisers so as to participate in an interactive game.

I notice that your screens are also used for wayfinding or as directories. Are they used in this way anywhere except in shopping malls? Please explain.

Yes, we only use as wayfinding in shopping malls.

How many screens do you have in total? Is advertising sold according to city or mall or chain of malls or nationally? Do your screens carry any content in addition to ads?

We have 1,200 screens and our advertisers mainly run national campaigns. We don't carry any additional content.

I see that you are interested in digitizing traditional advertising within companies. Have you started doing that? If so, can you give us an example?

I actually started digitizing at my old company Smart Impression, which specialized in advertising with large format digital printing on outdoor billboards. in 2003, I started to change some billboards for digital screens.

Last year, you chose BroadSign for your properties. What made you make that change?

Its software fits better with our needs.

How long have you been using Quividi for viewer measurement? What details do you get from it? Is it the only measurement system that you use?

We used Quividi for some weeks and we are testing some different ways to measure the audience.

You have your own creative team. Do many of your advertisers use it? For what, mainly?

Yes, we have a creative team and we use it to make some proposals and also to adapt content to our screens.

Do you intend to expand to other European countries or just to South America? Or into other verticals such as health or education?

That's confidential. I am not looking for other sectors. I am focused on our business model.

How advanced is the Spanish Digital Out-of- Home industry? How and in what areas do you see it progressing between 2016 and 2020?

Because of the strength of companies like Zara, Mango, and Desigual, among others the market, it is rocketing, so from 2016 to 2020, there will be an explosion of screens, smart screens with ibeacons, WiFi tracking and all sorts of interaction.