JCDecaux and the British Journal of Photography have partnered to showcase the UK-wide exhibition Portrait of Britain which will take over JCDecaux screens in shopping malls, train stations and high streets throughout September.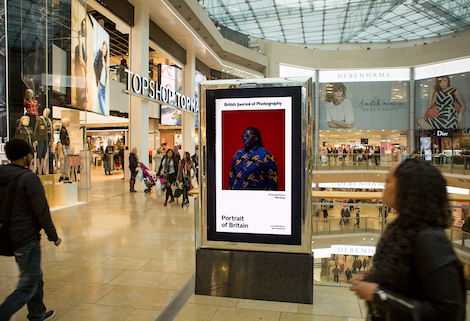 Portrait of Britain is art featuring the public on an unprecedented scale. A UK-wide exhibition that puts the nation's citizens centre stage. It will take over screens in shopping malls, train stations and high streets throughout the month of September underlining the enduring power of the portrait.
Envisaged as an exhibition 'by the people, of the people, for the people', Portrait of Britain was initiated as an open call for photographs that celebrate the country's unique heritage and diversity. Selected from nearly 4000 entries, the winning 100 portraits capture young and old, reflecting not just the multiformity of British people, but also the myriad of styles and approaches to contemporary photographic portraiture.
Simon Bainbridge, editorial director of the British Journal of Photography said "Public art works well when it engages with its surroundings and local population. That's what we wanted to do with Portrait of Britain. We wanted to show diversity in terms of who is being photographed, but we also wanted to see different ways of photographing. These are pictures that we all take in everyday life, but raised to a higher level by selecting, editing and presenting them in such a wide-ranging public exhibition."
Russell Gower, Creative Director of JCDecaux told us "We are delighted to be working with the British Journal of Photography to bring this powerful exhibition to a national audience, celebrating the power of the photographic portrait across our portrait network. The project will turn our digital channel into a national portrait gallery throughout September, reaching people when they are out and about, commuting, shopping and socialising."
The majority of subjects are everyday people, given noble status on the screens usually reserved for models and celebrities. However, there are some familiar names among the images such as Great British Bake Off winner Nadiya Hussein, Faithless singer Maxi Jazz, Grime artist Stormzy, and photographer Don McCullin, as well some home-grown heroes such as Mick Ellis, who was watch manager at the London Fire Brigade.
The images represent the varying styles of photography, some posed, some moments captured at random, some formal, others showing humanity at play. 'Home' is a common theme running throughout many of the images, as are the stories of migration and integration, picking up the mood of the country in post-Brexit times.
The exhibition will be displayed across digital screens in rail, retail, and roadside locations nationwide. 100 portraits have been selected, confronting the public with a reflection of themselves as they go about their daily business.
The winning images from this ground-breaking exhibition can be seen here and many of them will be available to buy as art prints from gallery.portraitofbritain.uk