Geopath, formerly known as the Traffic Audit Bureau for Media Measurement, officially launched its new brand Monday at its annual board of directors meeting in New York City.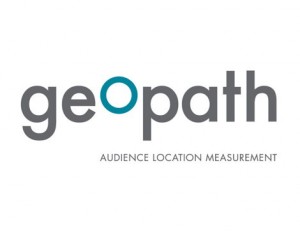 [1]Geopath is the not-for-profit organization that independently audits and reports ratings for out of home advertising, such as billboards, street furniture, and transit advertising, throughout the United States.
Geopath indicated that it would be re-branding in April earlier this year [2].
The Geopath rebrand signals a strategic change in focus for the 83 year-old organization, from strictly measuring impressions, to measuring and analyzing audience location, and how audiences interact with OOH advertising as they move throughout the consumer pathway. This shift from inventory to audience provides improved analytics, deeper consumer insights, a better understanding of OOH effectiveness, and better alignment with other media measurement.
A new tagline was created to highlight these key benefits – 'Powering a smarter OOH'.
Brand launch activities included the unveiling of a new website, geopath.org [3], media agency visits throughout the United States, mobile billboards, and a Times Square advertising takeover in New York City.
The new brand will also be promoted during Advertising Week in New York City, beginning on September 26, 2016.
Kym Frank, President of Geopath told us "We are so excited to finally launch our new brand," said "Our entire team has worked so hard over the past nine months to prepare for this day, and now we're laser focused on executing our vision to deliver state-of-the-art audience location measurement, big data insight, and innovation in market research to out of home advertising."
Kevin Gleason, CEO of Adams Outdoor Advertising and Fairway Outdoor Advertising, and Member of the Geopath Board of Directors, added "Geopath is the perfect name to communicate the future of OOH measurement, and to prove the unrivalled power of OOH advertising."
The branding work was overseen by a brand council of Geopath member companies, including Billups, Clear Channel Outdoor, Kinetic North America, Lamar Advertising, MacDonald Media, OOH Pitch, OUTFRONT Media, and Posterscope USA. The strategic brand consulting firm Rafkin & Company did the naming, strategy, and brand identity design.