Adrian J Cotterill, Editor-in-Chief
Last night in London at The Wallace Collection – considered one of the best collections of fine arts including paintings, porcelain, furnishings and armoury, not only did we get to see Frans Hals' The Laughing Cavalier – amazing, Ed we also got to see, along with several hundred other people, a wonderful re-imagination of the iconic British phone box.
Yes, that's right, you heard it correct. The humble, yet somehow perfectly British, red telephone box designed by Sir Giles Gilbert Scott back in the 1920's has been re-imagined by a lord of the realm – this time it is down to Lord Sugar and his Amscreen business run by his eldest son Simon Sugar.
Clear Channel UK also have something to be proud of. At the launch of Adshel Live last night, not only did they acknowledge the pioneering work that JCDecaux have done with street furniture – pretty much inventing it, they have had no inhibitions in finding a UK company that can design and build what can only be described as a striking structure.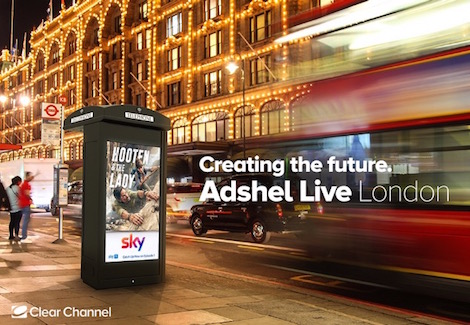 The return of Adshel Live to London, comes alongside ambitious plans to transform payphones across the capital and nationwide. Clear Channel of course, acquired Arqiva's payphone division earlier this year in January.
Justin Cochrane, CEO of Clear Channel, told us "We're enormously proud to announce the return of Adshel Live to London, bringing the flexibility and dynamism of the network back to advertisers in the capital. Not only does this announcement mean amazing opportunities for advertisers in key retail locations right across the capital, it also means hundreds of beautifully designed, British-built phone boxes offering valuable services such as public Wi-Fi and interactive local area maps."
As of next week, Clear Channel will begin transforming aging phone boxes into brand new phone boxes featuring Wi-Fi, interactive local maps and payphone services, with an Adshel Live digital screen integrated into every unit.
It's hard to describe this phone box as anything other than 'stunning' – not only does it re-imagine the iconic London phone box for modern age, it pays homage to a design classic – breathing life back into the traditional, and instantly recognisable, British icon.
Interestingly, it was announced last night that as part of their commitment to transforming and enhancing UK high streets, Clear Channel is to plant and care for a tree in the local area for every phone box they upgrade. The new trees will be planted in partnership with international environmental charity, Trees for Cities.
As with the rest of their nationwide Adshel and Adshel Live digital networks which appear at thousands of bus shelters right across the UK, Clear Channel will be responsible for the installation, cleaning and maintenance of the units at no cost to the public. Over the last five years alone, Clear Channel has contributed GBP 170 million to public infrastructure for the UK communities they operate in.
Simon Sugar, Amscreen's CEO also told us "Over the last year we have delivered more than 1200 screens as part of the Adshel Live network and we're now very pleased to be able to extend our partnership with Clear Channel with a ground-breaking new product. We've worked closely with the team to design and manufacture an entirely new unit that we're confident will revolutionise the on-street out of home space. This extensive roll-out of these revolutionary new phone box displays plays to Amscreen's key strengths in terms of delivering a scalable product that ensures ease of deployment, maintenance and leverages the power of real-time insight. We're also proud to say that this has all been developed and built on home soil, so British engineering talent has been key in launching these modernised, iconic displays."
By the end of 2016, Clear Channel will have installed over 100 new phone boxes in London and this is rumoured to rise to up to 500 boxes in London by the end of 2017 – bringing the number of Adshel Live screens across the country to over 1,500.