Clear Channel Airports, a brand division of Clear Channel Outdoor Americas (NYSE: CCO), and a subsidiary of iHeartMedia Inc., has announced that the Metropolitan Nashville Airport Authority (MNAA) has awarded it a 10-year contract extension to provide a comprehensive digital media program for Nashville International Airport (IATA: BNA, ICAO: KBNA, FAA LID: BNA) that will enable advertisers to reach 12 million passengers annually.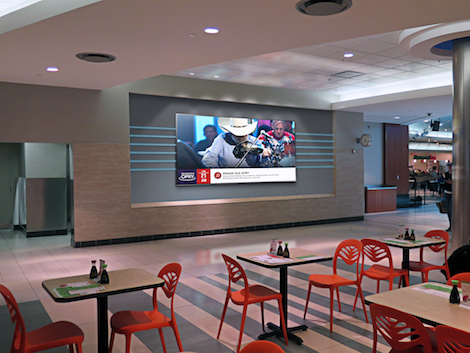 As part of the new agreement, Clear Channel Airports will install an entirely new digital advertising network at BNA that, we are told, will include the world's most technologically sophisticated state of the art media.
Last year, BNA climbed towards the top of the aviation industry's charts to become the fourth fastest growing airport in the U.S. BNA served 12.2 million passengers in fiscal year 2016, the most in its 78-year history and a 9.8% increase over the previous fiscal year.
As home to healthcare industry giants and a blossoming technology sector, the city of Nashville or 'Music City,' is one of the fastest growing cities in the country, economically and culturally. The airport averages 440 flights per day and hosts 12 carriers to more than 50 nonstop destinations. BNA regularly adds new destinations and nonstop options for its travelers, most recently introducing service to San Francisco, Oakland and Seattle and last year.
Clear Channel Airports' new advertising program at BNA will feature new digital assets including:
58 dynamic digital displays
Four spectacular video walls in key locations throughout the airport
An architecturally integrated baggage claim LCD network with enhanced baggage information display screens running flight arrival information
Four digital directories
Custom designed free charge units
Digital reservation centers with CVC music applications highlighting music venues in the Nashville area
John Moyer, Senior Vice President, Business Development, Clear Channel Outdoor Americas told us "We are very proud to extend and deepen our relationship with the Metropolitan Nashville Airport Authority as they continue to foster the brand innovation and creativity Nashville International Airport passengers have come to expect while traveling through the airport. With a booming cultural scene, unprecedented business growth and leading universities, Nashville offers advertisers the opportunity to reach an impressively broad audience by immersing travelers in an interactive, state of the art airport media experience."
A recent Nielsen study showed that nearly 60% of business and leisure travelers believe that advertising in airports is an indicator of high-quality brands and products, and more than three-quarters of leisure and business travelers say they notice airport digital ads, with over one-third of travelers surveyed confirming they've visited a website or used an app to find out more about a product or service they saw advertised inside an airport.