This year it was leading UK digital media owner JCDecaux who picked up the 'Reggie' for 'Best Original Digital Billboard' at The DailyDOOH Gala Awards.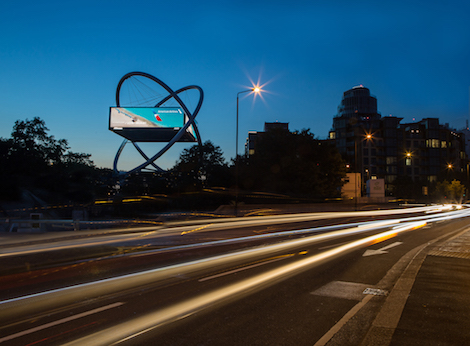 It was awarded for their iconic Wandsworth Roundabout site which was launched in September 2016 and offers over 200 square metres of digital space. The superstructure delivers 2.6 million impressions every two weeks (Source: Department for Transport).
David McEvoy, Marketing Director at JCDecaux, told us "The DailyDOOH Gala Awards are a prestigious recognition and we're proud that our focus on digital innovation is being acknowledged and rewarded by the industry. We have committed to delivering one billion digital eyeballs in 2017 and this screen, in partnership with TfL, plays a vital part in achieving this goal. A big thank you to the teams that were involved in the project as a lot of hard work and creativity from across the board went into making this site as impactful and progressive as possible."
The DailyDOOH Gala Awards recognise excellence and promotes best practice in the digital signage and Digital Out-of-Home industry. The awards ceremony took place on Thursday December 1, 2016.