Gail Chiasson, North American Editor
GestureTek Inc., the Sunnyvale, Caifornia, pioneer and a leader in gesture-controlled interactive display solutions, has launched the Cube, a portable, 'plug-n-play' interactive projection display unit that brings the power of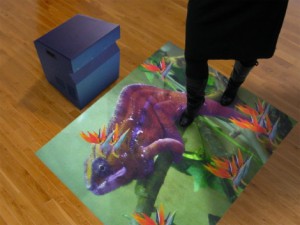 motion-based interactivity to any location.
The goal is to add impact and excitement to advertising, branding and promotional campaigns.
The Cube is an 'interactive display in a box' that comes pre-configured and pre-calibrated, and includes over 70 engaging games, special effects and video and sound applications. Flash applications are also available. Companies can also customize simple logo inserts themselves, or GestureTek can do it for an additional cost. Some companies simply choose to use the 70 included games and apps on the Cube.
With no onsite technical support required for installation, anyone can roll it in, turn it on and it is instantly interactive.
"We've taken the best features of our highly successful large, permanent overhead interactive display deployments and packaged them into a flexible and compact turnkey system that is perfect for even the most space-constrained venues," says Vincent John Vincent, GestureTek president.
The Cube is an 'intelligent' box measuring 23" x 18" x 16" and weighing 60 pounds. It comes with a 4' x 5' mat, onto which an 80" diagonal display is projected. Multi-media content is displayed on an interactive floor, allowing users to control and manipulate this content by stepping onto the projection.
GestureTek's sophisticated, multi-patented video gesture control software for body tracking monitors the movements of people using the Cube. Together with a high-end projector, camera and other hardware, the system detects motion and responds with changes to the projected content.
"After a year of research and development to ensure optimal resolution, zero technical support, flexibility to use on both floors and walls and the ability to allow users to make custom content changes with the press of a button, I'm confident in saying that the Cube is the most flexible and easy-to-use gesture-controlled interactive display system in the world," says Vincent.
GestureTek's customers who were part of the Cube's 'soft launch' over the past few months gave the product high marks as an attention-grabbing, ready-to-use product. Sears, Old Navy, American Family Insurance, Diageo and Cineviz are among the businesses who have used it.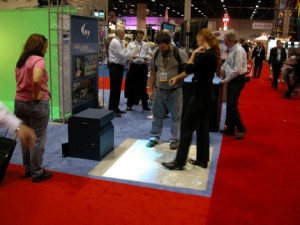 Target market is retail chains, hospitality locations and advertising rollouts. Its visual appeal causes passers-by to stop in their tracks and engage with the brand. Its portability allows it to be used for time-specific promotions, and to be easily moved from location to location, depending on the organization's advertising and marketing requirements. The Cube is also suitable for trade shows and traveling events, due to its mobility and ease of use. Cubes can be set up anywhere, and within minutes are fully interactive.
"Any time an advertiser wants to market in a high-traffic location and deliver a strong advertising message that cuts through the clutter, or to provide an engaging game or activity that keeps consumers engaged with the brand for a longer period of time, the Cube is an engaging and cost-effective option," says Vincent.
Companies can buy or rent the cube. To purchase, pricing depends on how much application development work needs to be done, but an average price is approximately US$13,000.