Retail Digital Signage Expo [1] (RDSE) Europe's leading annual event for the retail digital signage industry, has become an official participant in London Digital Signage Week [2] as the exclusive industry event sponsor.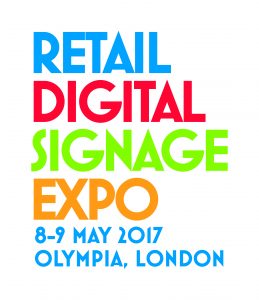 To kick of London Digital Signage Week, #RDSE2017 will host a dedicated drinks reception at Olympia Exhibition Centre hosted by the #LDSW organisers, The Ministry of New Media.
The tie-up was announced at The DailyDOOH Gala Awards [3], held in London December 1, 2017. DailyDOOH editor-in-chief Adrian Cotterill described the agreement as an exciting move for the sector. Retail Digital Signage Expo runs on May 8-9, 2017 and London Digital Signage Week takes place from May 8-12, 2017.
Retail Digital Signage Expo event director Annie Swift told us "This is a great example of those in the digital signage sector working together to show just how impressive their work can be. Retail is one of the most dynamic and exciting markets for digital signage, and retailers and brands are keen to learn more about it. This agreement between Retail Digital Signage Expo and London Digital Signage Week is brilliant news for everybody."
As with its counterpart in New York, #LDSW includes events for retail, employee communications, digital out of home, digital signage AND for the first time, specific events for #SmartCities.