Adrian J Cotterill, Editor-in-Chief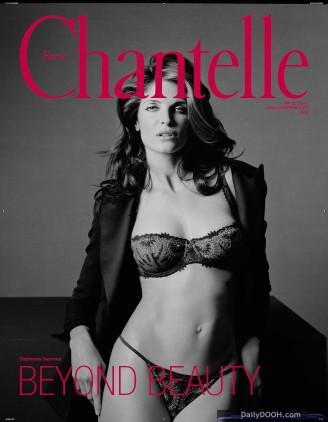 i-vu continue to attract great brands to their hair salon network and perhaps more importantly their sales guys are thinking out of the box / being incredibly creative when it comes to doing promotions, both locally and nationally.
In this instance it's Chantelle Lingerie and supermodel Stephanie Seymour.
The target here is mothers and daughters during the Mother's Day period (err not the husbands and boyfriends cos' the advert has my attention already!!!) to encourage them to attend special lingerie fittings in leading department stores in Oxford Street such as Selfridges, John Lewis, House of Fraser and Harrods in Knightsbridge.
It's therefore a specific London-based campaign that is running across nearly 900 individual interactive screens placed in 105 salons including Harringtons, Rush and Headmasters.
The three-minute commercial would normally seem long (but we managed it to view it repeatedly) and features the Chantelle Lingerie spokesperson, Stephanie Seymour (shown above). The video clip also ncludes a two-minute fitting video (don't ask!!) which will show viewers how to fit lingerie correctly.
The video also lists the stores where the fitting events will take place.