ITV, now home to The Voice UK, is kicking-off an interactive DOOH campaign to promote the show's brand new coaching line-up ahead of the rebooted show's debut on ITV. The week-long campaign domination features coaches Gavin Rossdale, Jennifer Hudson, Sir Tom Jones and will.i.am who surprise shoppers passing by large-format, Ultra HD screens in shopping centres across the UK including Bluewater, Arndale and the Bullring.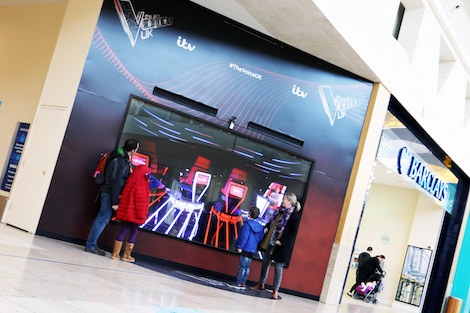 Natasha Reddy, Marketing Manager – Entertainment and Daytime, ITV, said "One of our main objectives with launching The Voice on ITV was to make the campaign and all comms around the launch as innovative as possible and we think these interactive panels have done just that. We're incredibly pleased and excited about being able to give our audiences such a premium and fun experience."
The campaign features the coaches sitting in their famous red chairs with their backs facing the public. Each time a shopper passes close by the content is triggered and the chairs spin round to reveal the all-star cast accompanied by claps and crowd cheers and the call to action to tune in to ITV, 8pm Saturdays, #TheVoiceUK.
Samantha Sida, co-founder of Limited Space, added: "It is always great to be part of a campaign that is designed specifically for the medium and our network. This campaign takes full advantage of the visual and audio properties of our large format, landscape digital screens and will actively connect and entertain shoppers as a result."
The DOOH activation was conceived by Goodstuff and Talon, with production and interactive build by Grand Visual, using a bespoke arduino tech solution with integrated PIR sensors. The campaign runs across Limited Space's large format digital network, with full audio and vinyl surround installation and supports a broader outdoor and multichannel push announcing the arrival of The Voice to screens on Saturday January 7, 2017, on ITV.
Dan Dawson, Chief Creative Technology Officer at Grand Visual told us "Digital Out of Home has come a long way. With the right team and a collaborative approach, it's never been easier to produce engaging, responsive and interactive DOOH experiences – at scale."