Talon has been ranked Number 1 in the prestigious and highly contested 'Top 100 Best Small Companies List', run by The Sunday Times (this is the second year running that they have been ranked in the top ten – last year they were ninth).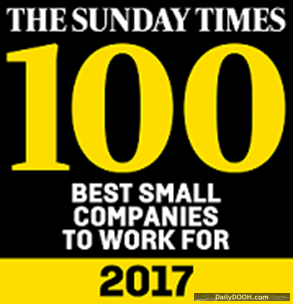 The award comes after much dedication towards internal people initiatives at Talon; from the refinement of working practices, to improving the work-life balance of staff members and to creating a positive and open company culture for all. All of which has accumulated in Talon's overall BCI (Best Companies Index) increasing by 10 points and 90% of teams scoring a higher engagement score year-on-year.
Talon's People Manager, Mapara Syed Fernandez told us "We're overwhelmed by this achievement. To improve year-on-year in this prestigious listing is testament to the ever supportive and rewarding range of developmental and wellbeing initiatives we have rolled out and continue to introduce here at Talon. Whether it's being bold and instilling a no-email policy after 7pm or pioneering new feedback tools, we are always striving to place our people at the heart of our business."
Steve Bond, Managing Partner at Talon added "We've put a lot of effort into achieving this fantastic recognition and making Talon one of the best media companies to work for. I'm particularly pleased that we have both improved significantly on last year's performance and to reach the Number One spot is brilliant."
In addition to the ranking, Best Companies described Talon as 'extraordinary' as well as giving a three star accreditation – the highest possible award.
The Sunday Times Best Companies list is now in its seventeenth year – with many employers and industry bodies recognising it as the gold standard indication for excellent working environments and positive company cultures.